Adele Breaks Down in Tears While Dedicating Her Concert to the Victims of Orlando Shooting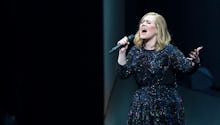 Adele's Live 2016 tour has produced scores of viral moments — but nothing like this. 
Sunday, the British singer dedicated her show in Antwerp, Belgium, to the 50 confirmed dead and 53 injured in the shooting that took place at the Orlando, Florida gay club Pulse.
"I would like to start tonight by dedicating this entire show to everybody in Orlando at Pulse nightclub," Adele told the crowd, as reported by BuzzFeed. "The LGBTQIA community, they're like my soulmates since I was really young, so I'm really moved by it." She could barely get through that short invocation without breaking into tears.
"I don't know why I'm crying already because most of tonight is pretty miserable, because my songs are fucking miserable," Adele joked, trying to lighten the mood. "I do have two songs that sound happy, but they're not."
Adele's tribute joins scores of others across the music community, including writer, creator and star of Hamilton Lin-Manuel Miranda's touching speech during Sunday night's Tony Awards.
 "We live in times when hate and fear seem stronger," Miranda said. "Love is love is love is love is love is love is love is love; cannot be killed or swept aside."
Watch Adele's full dedication, as well as a performance of "Rumor Has It" below.
Read more:
June 13, 2016, 11:37 a.m.: This story has been updated.