US Attorney Lee Bentley Says Others May Have Been Involved in Orlando Shooting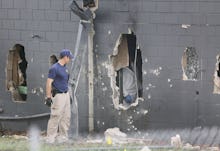 On Sunday, officials named Port St. Lucie, Florida resident Omar Mateen as the suspected gunman responsible for that morning's mass shooting at an Orlando, Florida gay nightclub.
United States Attorney Lee Bentley III said in a press conference on Monday that authorities are currently investigating other suspects who may have acted as Mateen's accomplices. "There is an ongoing criminal investigation," Bentley told Politico, but added it was too early to say whether more arrests are imminent. 
Reports have alleged ties between Mateen and the Islamic State group, with a U.S. official telling CNN that the 29-year-old called 911 during the shooting and proclaimed his allegiance to ISIS. Mateen had also been questioned by the FBI in 2013 and 2014 as a "person of interest."
Bentley said on Monday that while there may be individuals associated with Mateen at large, officials have "no reason to believe that anyone connected to this crime is placing the public in imminent danger at this time." 
"We have teams of prosecutors, as well as teams of agents working around the clock, getting search warrants, getting court orders," he continued. "If anyone else was involved in this crime, they will be prosecuted."
Read more: