How Blue Ivy Carter Is Already a Worthy Heir to Beyoncé's Style Icon Throne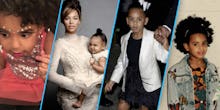 When future historians sift back through the murky mists of time, it may be hard for them to understand that the one they know as Benevolent Galactic Overlord, Blue Ivy Carter, was not always Supreme Leader of the Peaceful Free Galaxies, but was once just a child with a mother and a father, who enjoyed picking out her outfits every day. 
Before Blue Ivy Carter was swaddled in the eternal light of justice, she wrapped herself in silks, twills, and damasks, like any other 4 year-old mere mortal. 
And as historians will note, her first red carpet appearance would come to be recognized as her "Sword In the Stone" moment: the catalyst to her imminent ascendance to the family throne.
On June 6, 2016, the same day Hillary Clinton became the presumptive presidential nominee for the Democratic party, another female powerhouse stepped forward into history.
Accessorizing her crisp white blazer & $820 ostrich skirt with a commanding finger wag, Blue Ivy Carter arrived to walk her first red carpet letting you know how this was going to go down from the start. 'You're gonna get your little photo op, I'm going to smile with my parents, and then we are done here,' she seemed to say with her finger. 'Your red carpet pics of me are a privilege, not a right. Now if you'll excuse me, I need to escort my father inside; we have a gala to attend.' 
As we celebrate this momentous occasion, let's take a look back at the style moments that brought Blue Ivy Carter from baby booties to Louboutins.
June, 2012: While the rest of her outfit might blend seamlessly into her mother's cool neutrals, those metallic Little Marc Jacobs flats are all Blue Ivy. You may not be able to see her face, but you won't forget those shoes. Not yet sure on her own two feet, and already Blue stands tall as a fashion plate.
December 2012: In an outtake from her mother's Patrick Demarchelier-lensed Vogue cover shoot, Blue's ruffled number coordinates beautifully with her mother's Givenchy couture and steals the shot with her personality. She is only 11 months old, and already finding her light. 
June, 2013: Blue's Impact. You're no-doubt familiar with the trope of a toddler standing in her mom's too-big high heels, but Beyoncé shares an image on her Tumblr of the reverse. You'd be raiding your daughter's closet too, if it was filled with custom Tom Ford heels. 
December, 2013: Predating the oversized outerwear trend by years, Miss Blue Ivy Carter's studded jacket and floral Doc Martens announce her style pedigree, coming or going. 
March, 2014: Blue Ivy originates the oversized glasses trend Alessandro Michele would later show for several seasons at Gucci. 
August, 2014: Blue Ivy makes her first appearance onstage, joining her parents at the VMAs, in a head-to-toe monochromatic look the color of a Moonman statue. A grateful public cheers in adoration.
November, 2014: Here we witness the premiere of the black ostrich skirt Blue Ivy would later restyle at CFDA awards. Blue isn't just wearing clothes, she's building a wardrobe. 
February, 2015: Rihanna and Blue Ivy share a moment backstage at the 57th Grammy Awards, both decked out in rosy hues. What is Rihanna saying to the burgeoning fashion icon? We can't be sure, but a safe guess is, "Thank you for inspiring me."
October, 2015: Trick or Treating is for kids. Blue Ivy took Halloween as a chance for an actual fashion moment, with this spot-on tribute to Coming To America's Imani Izzi. 
May, 2016: Mother & Daughter, in matching custom Gucci denim emblazoned with "Love Is Blind." When it comes to style however, Blue Ivy's vision is clearly 20/20.
Where does Blue Ivy Carter go from here? President of the CFDS (Council of Fashion Designers of Space)? First tween to lead the Chambre Syndicale de la Couture Parisienne? 
While only our descendants will know the full glories of Blue Ivy Carter's imminent reign, one thing's for sure: her style is a family affair. 
Read more: