In One Tweet, Madonna Made Orlando's Tragic Mass Shooting All About Her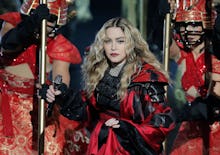 Sunday, following the deadly shooting at the gay nightclub Pulse in Orlando, Florida, that left at least 50 dead and dozens more injured, Madonna reached out to comfort her fans.
She posted several pictures in the intent of honoring gay communities on her Twitter and Instagram. However, as many on Twitter were quick to call out, one of them, a photo of Madonna kissing Britney spears from the MTV Video Music Awards in 2003, seemed aimed at honoring herself rather than the victims.
As some noted on Twitter, Madonna has long been an ally of gay communities, "defending [LGBTQ individuals] when it wasn't the cool thing to do," as user @GelidFields wrote. LGBTQ magazine the Advocate has described her as one of the first celebrities to work to bring "queer sensibility into the mainstream." 
But sometimes, even queens stumble — and this nod didn't sit well with many:
One user likened it to Katy Perry, another pop star who doesn't identify as LGBTQ but has looked to "capitalize" on her experience as she did with her early hit "I Kissed a Girl."
The backlash didn't reach "delete your account" levels as it did in the case of Donald Trump, who also posted a tweet congratulating himself for anticipating attacks from Muslim individuals. Madonna's fans encouraged her to simply log off and do better.
Read more: