7 Politicians Whose "Thoughts and Prayers" for Orlando Gloss Over Their Anti-LGBTQ Views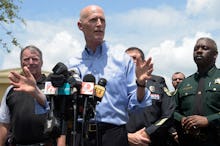 On Sunday, a gunman entered Orlando, Florida, gay nightclub Pulse and opened fire on crowds, as well as on responding law enforcement, resulting in at least 50 deaths and over 50 wounded. It caused more deaths than any mass shooting in modern U.S. history — and the attack, which may have been ideologically inspired by ISIS, seemed clearly targeted at LGBTQ people.
"This is an especially heartbreaking day for all of our friends and fellow Americans who are lesbian, gay, bisexual or transgender," President Obama said in a statement. "The place where they were attacked was more than a nightclub. It's a place of solidarity and empowerment where people have come together to raise awareness, to speak their minds and to advocate for their civil rights."
But legislators opposed to those civil rights have offered tepid takes on the situation unfolding in Florida. Here are seven politicians who have issued statements, tweets or Facebook posts invoking the power of "thoughts and prayers" or the like following the massacre, but who have demonstrated throughout their careers they have little regard for the real targets of the shooting, LGBTQ people. 
Or, in other words:
1. Florida Gov. Rick Scott
Here's how Scott addressed the massacre in his state on Twitter:
On CNN, Scott repeatedly refused to acknowledge the attack was directed against LGBTQ people, Raw Story reported.
"Just pray," Scott added. "Pray for the victims, pray for their families, pray that this never happens again."
As the Miami New Times reported, Scott has failed to say the words "gay" or "LGBT" since the gunman opened fire, and punted when asked if he was directing law enforcement in the state to protect LGBTQ Floridians against continuing threats to their safety.
Scott is personally against gay marriage. While he's said the matter should be left to the courts, the governor made sure the state of Florida kept fighting gay marriage even after other states gave up similar efforts. In March, a federal judge "chastised state officials" for dragging their heels on a number of issues related to Florida's overturned ban, reported the Tampa Bay Business Journal.
Just months ago, Scott's Department of Children and Families began a push to remove "gender expression" and "sexual orientation" from the types of bullying prohibited in state group homes, and Scott signed a "Pastor Protection Act" shielding churches that refuse to perform same-sex marriage ceremonies in March.
2. Texas Sen. Ted Cruz
Following the massacre, Cruz took to Twitter to say he stood in "solidarity" with the victims.
In a linked Facebook post, Cruz challenged Democrats to stand up for LGBTQ people by committing to the fight against ISIS:
For all the Democrats who are loud champions of the gay and lesbian community whenever there is a culture battle waging, now is the opportunity to speak out against an ideology that calls for the murder of gays and lesbians. ISIS and the theocracy in Iran (supported with American taxpayer dollars) regularly murder homosexuals, throwing them from buildings and burying them under rocks. This is wrong, it is evil, and we must all stand against it.
But Cruz's track record shows that far from his opportunistic embrace of defending gay people from ISIS, he is an enemy of LGBTQ equality.
Cruz launched his campaign around opposition to the Supreme Court's decision to legalize same-sex marriage nationwide. He's accused LGBTQ people of waging an anti-Christian "jihad." The senator also urged "every Believer, every Constitutionalist, every lover of liberty to stand with Kim Davis," the Kentucky clerk who refused to comply with the SCOTUS order on gay marriages.
In November, Cruz even attended a "religious liberties" conference in Iowa where at least three speakers "advocated or defended imposing the death penalty on gay people," Right Wing Watch reported. Cruz was introduced to the crowd by Pastor Kevin Swanson, who believes the Bible justifies executing gays. It took another month for the Cruz campaign to admit appearing with the speakers was a "mistake."
3. Donald Trump
Presumptive Republican nominee Donald Trump offered his own take on the massacre in Orlando, releasing a statement saying his "deepest sympathy and support goes out to the victims, the wounded and their families."
But those victims — predominantly LGBTQ people and their allies — only earned a single reference in the rest of the seven-paragraph statement, when Trump said "Radical Islam advocates hate for women, gays, Jews, Christians and all Americans."
Trump isn't the worst candidate on LGBTQ rights to run for the Republican ticket this year. As Slate's Mark Joseph Stern wrote earlier this year, Trump supported the repeal of "don't ask, don't tell," has advocated for civil rights protections for LGBTQ people and sided against Davis, saying the SCOTUS decision was "the law of the land."
However, his support for the LGBTQ community is as tenuous as many of his other policy positions, and being more progressive on the issue than many of the other contenders is a low bar indeed.
As the Huffington Post recently reported, Trump has been seeking the endorsement of influential figures on the religious right and in the evangelical community, including anti-gay groups like the Family Research Council and Focus on the Family. On Friday, he addressed the Road to Majority conference, using familiar rhetoric on family values and "religious freedom." In February, he seemingly flipped on gay marriage, saying he would "strongly consider" appointing federal judges who would overturn the SCOTUS decision.
4. Paul Ryan
The GOP speaker of the House issued a short statement calling it "horrifying to see so many innocent lives cut short by such cowardice. Tonight, and in the long days ahead, we will grieve with the families. We will thank the heroes. We will hope for a swift recovery for the injured."
He also posted a tweet saying "the victims & families will not be forgotten."
Maybe not forgotten, but certainly white-washed, as Ryan failed to mention anything about who those victims were.
As noted by On the Issues, Ryan lent his support for a constitutional amendment to ban gay marriage, as well as opposed gay adoption (although he has since flipped) and LGBTQ people serving openly in the military.
5. North Carolina Sen. Richard Burr
Burr posted the following tweet, saying "my thoughts and prayers are with the victims of this morning's horrific attack in Orlando and their loved ones."
However, Burr has a 0% rating from the Human Rights Campaign, a group which advocates LGBTQ equality in the U.S., indicating an anti-gay voting record. As recently as 2006, Burr supported a constitutional amendment to ban same-sex marriage, as well as voted to ban gay adoption in Washington D.C. In 2013, Burr told WRAL he chose to remain mostly silent on the issue of same-sex marriage because he wanted to leave the issue up to the states, though he clarified that his "personal opinion is that it's between a man and a woman."
Burr only recently said he felt the infamous HB2 bill, which banned all local LGBTQ anti-discrimination policies in his state and requires all people in North Carolina to use the bathroom according to their birth certificate, went "too far." But he had to be dragged there kicking and screaming by his Democratic challenger for re-election, Deborah Ross, who has made HB2 a campaign issue. As the Huffington Post reported, Burr "previously said he was out of the country when it passed; stated it's up to the courts to decide if it's valid; suggested it doesn't actually discriminate; and declared it a state issue."
6. Texas Rep. Louie Gohmert 
Gohmert, who is strongly affiliated with the Tea Party movement, also said he was "sending prayers and thoughts to those in #Orlando affected by the tragic terrorist attack."
Gohmert, however, is one of the most strident opponents of LGBTQ equality in the federal government. In 2014, he compared the LGBT movement to Nazism, saying "now all of a sudden, people like me are considered haters, hate mongers, evil, which really is exactly what we've seen throughout our history as going back to the days of the Nazi takeover in Europe."
Just weeks ago, the representative took to the House floor to warn his colleagues about gay space colonies, since their violation of God's "natural law" means they cannot be relied upon to propagate the human species.
7. Kentucky Sen. Mitch McConnell
Like the other officials on this list, McConnell invoked the power of prayer in his reaction to the shooting in Orlando in his official statement, while neglecting to mention LGBTQ people.
McConnell has voted for a constitutional amendment to ban gay marriage, against adding sexual orientation to the definition of a "hate crime," and for allowing employers to continue to discriminate against LGBTQ employees. He made it clear he disagreed with the Supreme Court's decision to legalize same-sex marriage, but the GOP was out of options to fight the new policy.