Orlando Shooting: Latest Updates on Investigation, Victims and What We Know About Suspect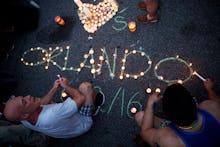 Early Sunday morning, the country was rocked by a mass shooting at Pulse, a gay nightclub in Orlando, Florida, that left at least 50 dead and many more wounded on Sunday. It is being called the worst mass shooting in modern U.S. history.
On Sunday night, communities all across the world came together to share their grief, their shock and their fears, both in person and online. Vigils were held in cities across the U.S., from Boston to Washington D.C. to Chicago, and as far away as Seoul, South Korea and Paris.
As more information is released about Sunday's attack, the full impact and scope of the mass shooting is becoming clear. More than 24 hours after the deadliest mass shooting in modern U.S. history, here's what we know.
Victims
As of Monday morning, the city of Orlando had released the name of 36 victims of the attack, the youngest of whom, Jason Benjamin Josaphat, was only 19 years old. 
Some details about the victims have surfaced, including the story of Luis Vielma, 22, who worked at Universal Orlando Resort on a Harry Potter-themed ride. Harry Potter author JK Rowling sent out an emotional tweet on Monday mourning Vielma. Thirty-year-old Eddie Jamoldroy Justice texted his mother, Mina Justice, when the attacks began. His last text to his mother read, "Hurry. He's in the bathroom with us. He's a terror."
Suspect
The primary suspect has been identified as 29-year-old Omar Mateen, U.S. citizen from Fort Pierce, Florida, and father to a young son. Mateen was raised in Florida by Afghan parents, reported the Washington Post, and, in 2006, graduated from a local college with an associate's degree in criminal justice. He worked as a security guard both at a juvenile facility and, later, for private security company G4S.
Mateen's ex-wife, Sitora Yusifiy, told the Post, that he was physically abusive during their marriage, which lasted only a few months. "He would just come home and start beating me up because the laundry wasn't finished or something like that," she said.
Mateen regularly attended a local mosque, and his Imam told the Post that Mateen was "the most quiet guy." But Mateen's father, Siddique Mir, told NBC News that his son had become enraged months earlier after seeing two gay men kiss in public in Miami. 
On Monday Siddique released a video condemning his son's actions, but details have surfaced about his own alleged pro-Taliban leanings. 
On Monday, CNN reported that Mateen had previously been investigated by the FBI and, during the attack on Sunday, he called 911 to pledge allegiance to ISIS. 
Latest Reactions
The Presidential candidates were quick to comment on Sunday's attack. Presumptive Republican nominee Donald Trump reiterated his sentiments on Monday morning, saying that the victims of the attack would have had a better chance at surviving had they been armed, telling CNN that "If people in that room had guns, with the bullets flying in the opposite direction right at [attacker Omar Mateen], right at his head, you wouldn't have had the same tragedy that you ended up having."
President Barack Obama addressed the country on Sunday, saying "we know enough to say that this was an act of terror and an act of hate. And as Americans, we are united in grief, in outrage, and in resolve to defend our people."
The President spoke again about the attack on Monday, saying that "As far as we can tell right now, this is certainly an example of the kind of homegrown extremism that all of us have been concerned about for a very long time," reported the New York Times, adding that "We make it very easy for individuals who are troubled, or disturbed, or want to engage in violent acts to obtain very powerful weapons very easily, and it's a problem."