John Oliver Delivers a Powerful Cold Open Honoring the Orlando Club Shooting Victims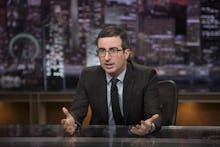 John Oliver opened Sunday's episode of Last Week Tonight with a cold-open to the victims of the shooting in Orlando, Florida, at a gay nightclub that has left 50 people dead including the shooter. The shooting, believed to be perpetuated by 29-year-old Omar Mateen, is the deadliest mass shooting in U.S. history.
"The worst thing is this pain is so familiar," Oliver said. "In Paris last November, terrorists seemed to target places symbolizing everything that is wonderful about France — culture, music, restaurants. And in Orlando earlier this morning, a gunman attacked a Latin night at a gay club in the theme park capital of the world. And for the record, I will happily embrace a Latin night at a gay club at the theme park capital of the world as the ultimate symbol about what is truly wonderful about America." 
However, Oliver's ending message didn't harp on the brutality of the act — rather, the perseverance of people who were willing to help the victims. 
"I'm sure there will be much more to say about Orlando going forward, but for right now, on a day when some dipshit terrorist wants us to focus on one man's act of brutality and hatred, it might be worth seeing this video, which was posted to Twitter today," Oliver says, before showing a clip of hundreds of people gathering to donate blood to the victims. 
"It kind of reminds you that that terrorist dipshit is vastly outnumbered," Oliver concludes. "And now, please enjoy our stupid show." 
You can watch Oliver's full cold open below: 
Read more: