Obama Says Orlando Shooter Omar Mateen Was an Extremist, But Not Part of a Larger Plot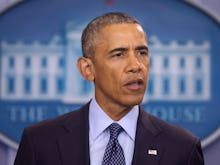 On Monday, President Obama said in a press conference that while it appears Omar Mateen, the gunman responsible for the shooting at Orlando, Florida, gay nightclub Pulse on Sunday, was "inspired by extremist information," there is no evidence that the 29-year-old was involved in a larger terror plot. 
According to the Associated Press, Obama said authorities are still investigating the massacre as an act of terrorism, and compared it to 2015's San Bernardino shooting. 
However, the implications of the shooting happening at a gay nightclub have not been lost on Obama or investigators: Obama said officials are looking closely at Mateen's motivations, the AP reported. 
"The fact that it took place at a club frequented by the LGBT community I think is also relevant," said Obama.
"At this stage, we see no clear evidence that he was directed externally," Obama said. "It does appear that at the last minute, he announced allegiance to ISIL."
Though Mateen may not be affiliated with a larger terrorism plot, United States Attorney Lee Bentley III said earlier Monday morning that authorities are investigating possible accomplices to the shooting. 
Read more: