Gay Choruses Sing for Healing and Strength Following Orlando Nightclub Shooting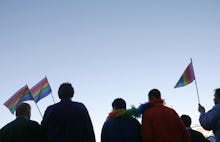 Early Sunday morning, the LGBTQ community in Orlando, Florida experienced an unparalleled tragedy in what was supposed to be a safe space. A shooter who had announced allegiance to the Islamic State group, also known as ISIS, opened fire in the gay club Pulse to carry out the deadliest mass shooting in modern U.S. history, killing at least 49 and injuring dozens more.
Late Sunday night, some of the most powerful vigils offered precisely the thing those victims were enjoying before the bullets reached them: music. None were more powerful than those led by gay choirs in cities such as New York, Washington D.C. and Orlando, which gathered to reaffirm the strength and resilience of their communities. 
Each graceful harmony taps into a history of choral music serving as a form of political protest and support network for gay communities.
A mile and a half away from Pulse, the Orlando Gay Chorus gathered at the Joy Metropolitan Community Church in Orlando to sing "You'll Never Walk Alone" from the musical Carousel. The Gay Men's Chorus of Washington with a similar message, taking their hopes for peace right up to the steps of the White House with a rendition of "We Shall Overcome."
"We are so devastated by the events of today," a chorus spokesperson said at the capitol's event, according to People magazine. "I could not grieve more for central Florida right now. The chorus is here to sing for equality and for peace." 
The gay choral movement has provided a haven for LGBT individuals, as far back as 1978, when openly gay politician Harvey Milk was shot and killed inside San Francisco's city hall. The world's first chorus to use the word "gay" in its name, the San Francisco Gay Men's Chorus, gathered on those steps to that very building to sing Mendelssohn's "Thou Lord, Our Refuge" in a spontaneous act intended to help guide mourners work through their grief.
"Singing in a gay choir is essentially a political act," Kenneth T. Cole, executive director of Gay and Lesbian Association of Choruses from 1994 to 2001, once told John D. Sparks for Choral America. Their mere existence challenged a tight-lipped status quo that encouraged gay individuals to stay closeted.
Gay choirs also helped established a vital support networks, Cole elaborated. "They come because of the music, of course, and to socialize, but also for the sense of community and friendship," he said. "But in the gay community, the chorus plays a major community role. There is a very, very strong support network within the chorus."
"In the gay community, the chorus plays a major community role. There is a very, very strong support network within the chorus."
This same needs for health, safety and community has driven Sunday's vigils, which continued into Monday morning, with New York City Gay Men's Chorus paying tribute to victims on Good Morning America with the song "Light," from the Broadway play, Next To Normal.
"Day after day/ We'll find the will to find our way/ Knowing that the darkest skies will someday see the sun," its lyrics run. "And when the night has finally gone/ And when we see the new day dawn/ We'll wonder how we wandered for so long, so blind." To find a more necessary message and a group operating within a tradition more qualified to deliver it, would likely be an impossible task.
Read more