Orlando Massacre Victim Amanda Alvear's Snapchat Recorded the First Gunshots at Pulse Club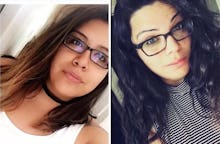 On Sunday morning, Amanda Alvear was sending Snapchats from the nightclub Pulse in Orlando, Florida, when the worst shooting in modern American history took place. Her Snap story caught the moment the first gunshots rang out around 2 a.m. Eastern. She was with her best friend Mercedes Flores — both women did not survive the attack that would ultimately leave at least 49 people dead, not including the shooter, and 53 others wounded.  
Both Alvear and Flores were victims of a massacre reportedly carried out by Omar Mateen, a 29-year-old who pledged allegiance to ISIS, was investigated twice by the FBI, purchased an AR-15-style gun and traveled two hours to Orlando to carry out his attack.
Her Snap story is some of the first footage coming out from Sunday morning's shooting. Videos show her enjoying the music with her friends and dancing inside the venue. In an alarming turn of events, Alvear is seen reacting to the gunfire as it takes over the noise of the music. 
Alvear's family used social media to try and locate Alvear and Flores in the hours after the shooting — neither victim had been immediately identified, causing Alvear's sister Ashley to start an online hunt for any information, while praying for the best. 
"I'm without words," she later wrote on Facebook. "I love you baby girl. You were and will always be my baby sister. I'm so heart broken. Rest in peace BabyGirl. Amanda Alvear a loving sister, aunt, godmother. You could make anyone's day with the smiles of yours."
"I still can't believe this," she ended.
Flores, a 26-year-old who worked at Target, was later identified along with Alvear. 
Sunday's shooting rippled through the LGBTQ2 communities, the nation and the world like an earthquake, with many following updates as they developed. By Monday morning, newspapers across the nation painted a picture of only the latest tragedy to envelope the United States surrounding gun safety measures. 
Read more:
June 14, 2016, 12:42 p.m. Eastern: This story has been updated.