In Rush to Explain Orlando Shooting, Americans Blame Everything But America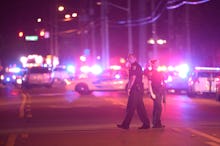 Shortly after a gunman entered Pulse, a popular gay nightclub in Orlando, Florida, with an AR-15-style rifle and a Glock 9mm pistol early Sunday morning and killed at least 49 people, Americans settled into a familiar routine of debating why he did it.
When his name — Omar Mateen — became public, some of those same Americans attributed his crimes to a predictable set of traits: his religion (Islam); his mental "instability"; his foreign-born parents; his alleged connection to the Islamic State.
Read more: Here's the Truth About Whether Orlando Shooting Was Terrorism or a Hate Crime
"Omar S. Mateen," someone tweeted upon hearing the gunman's name for the first time. "[That] ain't Irish."
"Terrorist was 29-year-old Islamic radical," shrieked TMZ's headline, accompanied by a photo of the swarthy killer.
But in the rush to explain Mateen's motivations, we have ascribed his crimes to everything but his most obvious and aggressively glossed-over trait: that he was a male bigot born and raised in the United States of America. 
In this context, there is nothing uniquely foreign about what Mateen did on Sunday. 
A cursory glance at American history reveals a legacy of terrorists who've used difference to justify mass violence against other people. In 1890, a government-sanctioned attempt to control South Dakota's Sioux population sparked the Wounded Knee massacre, in which U.S. troops killed an estimated 150 Native American men, women and children. In 1921, resentful whites attacked the prosperous black community of Greenwood, Oklahoma — a suburb of Tulsa — and looted and burned the town to the ground, killing an estimated 300 black people. In 2015, a 21-year-old white terrorist named Dylann Roof killed nine black parishioners in the basement of the Emanuel African Methodist Episcopal Church in Charleston, South Carolina.
"You rape our women and you're taking over our country," Roof reportedly said before killing one victim. "And you have to go."
For LGBTQ Americans, this violence has no less sordid a history. In 1973, arson claimed 32 lives at the Up Stairs Lounge, a gay bar in New Orleans. In 1997, terrorist Eric Robert Rudolph detonated a projectile bomb in the Otherside Lounge — a lesbian club — in Atlanta, injuring five. The next year, in Laramie, Wyoming, two bigots beat up Matthew Shepard, who was gay, before tying him to a fence and burning him to death. Cruising grounds in public parks have routinely been targeted by homophobic assailants over the decades, while the number of transgender women of color killed in recent years verges on staggering.
It's remarkable — with this history — how far many of us will go to avoid indicting the United States. Lax gun laws in this country indeed contribute to the availability of weapons used to carry out an attack of Sunday's scale, but the impulse to commit such violence has been present for much of America's lifetime. Homophobia has been inscribed in our laws. Our churches have called LGBTQ lifestyles an abomination before God.
Our insistence on finding whatever we can that is foreign, un-American or at odds with America's perceived values in crimes of this scale makes it impossible to reckon with our ghosts. Sunday's massacre represents a chance to rectify that. Will we use it?
June 14, 2016, 12:47 p.m. Eastern: This story has been updated.