Kid Cudi Pledges to "Change" Hip-hop's Attitudes Towards Gay Rights After Orlando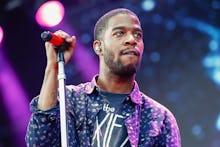 Few entertainers have responded to Sunday's shooting at the gay club Pulse in Orlando, Florida with as much fervor as Kid Cudi.
Throughout the day, the rapper, singer and actor tweeted out his support for the 50 confirmed victims and over 50 injured, responding to fans who shared his empathy and those who did not.
But raising awareness and directing his fans to blood drives in the Orlando area, did not feel like enough for the star.
He pledged to take on a much larger target: the homophobia that's long existed with his art form.
Several other stars have taken up this cause before, most famously Kanye West, who called out hip-hop's frequent use of the words "gay" and "fag" back in 2005. Nicki Minaj, Lil B and Jay Z have spoken out since. 
But still the genre's homophobia still raises its ugly head from time to time, as recently as 2014, when hip-hop veteran Lord Jamar criticizing rappers like Kanye West and Macklemore for tarnishing the "alpha male" essence of hip-hop.
Others immediately responded to Kid Cudi's call, including rapper Ty Dolla $ign, who tweeted his support.
Fans will have to wait to see how Kid Cudi plans to realize this goal. In May, he did announce a new album Passion, Pain & Demon Slayin' coming this summer. It's hard to think up a title that could sum up his mission better.
Read more: