Hillary Clinton Swipes at Donald Trump After Orlando Shooting: "A Country of We, Not Me"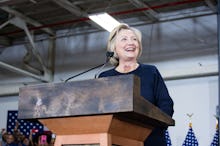 Presumptive Democratic nominee Hillary Clinton issued a forceful rebuke of Sunday's terrorist attack in Orlando, Florida, during a speech Monday in Cleveland, where she laid out both her plan to combat terrorism as well as delivered a plea for Americans to come together to "have each others' backs."
Clinton was measured in her remarks, balancing a call for tougher plans to combat the Islamic State group and heightened gun control measures, while at the same time issuing a plea for civility and acceptance of all Americans from all communities.
Read more: Orlando Massacre Exposes the Ugly Divide of the 2016 Election
She never once mentioned presumptive Republican nominee Donald Trump's name, but she took veiled swipes at his rhetoric after he called for a ban on all Muslim immigrants as well as congratulated himself on predicting attacks such as the one that took place in Orlando.
"The Orlando terrorist may be dead," Clinton said in her speech, not evoking the name of the man who killed at least 49 and wounded at least 50 others when he opened fire at a gay nightclub in Orlando after pledging allegiance to the Islamic State group, otherwise known as ISIS. "But the virus that poisoned his mind remains very much alive, and we must attack it with clear eyes, steady hands, unwavering determination and pride in our country and our values."
To combat ISIS, Clinton called for countries such as Saudi Arabia, Qatar and Kuwait to stop funding radical Islamic groups, as well as a plea for increased resources for law enforcement agencies working to combat terror both at home and abroad.
She said "weapons of war," such as the AR-15-style gun used in Sunday's massacre, have "no place on our streets."
"That may not stop every shooting or every terrorist attack, but it will stop some and it will save lives, and it will protect our first responders," Clinton said.
And she once again said that those on the no-fly list should not be able to purchase guns — a ban that came up in legislation earlier this year but failed in Congress thanks to Republican opposition.
"If you're too dangerous to get on a plane, you're too dangerous to buy a gun in America," Clinton said.
Toward the end of her remarks, Clinton sought to comfort the LGBTQ community and their allies after the massacre.
"To all the LGBT people grieving today, in Florida and across our country, you have millions of allies who will always have your back — and I am one of them," Clinton said.
Clinton concluded by speaking of her service as a senator from New York in the days following 9/11, saying that despite serving with "a Republican president, a Republican governor and a Republican mayor," they "did not attack each other" but instead worked together "to protect our country and to rebuild our city."
"President Bush went to a Muslim community center just six days after the attacks to send a message of unity and solidarity, to anyone who wanted to take out their anger on our neighbors and Muslim citizens he said that would not and should not stand in America," Clinton said. "It is time to get back to the spirit of those days, the spirit of 9/12."
June 14, 2016, 2:27 p.m. Eastern: This story has been updated.