Disney 'Moana' Teaser Trailer Unveils Stunning First Look at Polynesian Princess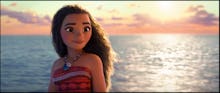 Disney's first Polynesian princess finally has a trailer — and from what we've seen so far, it's a visual spectacle. Moana, named after the titular princess of the film, follows her on an epic oceanic adventure to fulfill her ancient ancestors' quest of reaching a long-fabled island. Along the way, she'll receive the help of a boisterous, once mighty demi-god, Maui, voiced by Dwayne Johnson. 
As for Moana, she will be voiced by newcomer Auli'i Cravalho, a Hawaiian native who nabbed the part in Disney's open casting for the role. While we don't get much of Moana in the trailer, what really shines is the expansive Pacific Ocean backdrop, and the animals that comprise the environment.  
Add in a musical score that features Tony Best Score winner Lin-Manuel Miranda, and Moana is shaping up to be another Disney classic — this time, with a diverse princess at the helm. 
You can check out the teaser trailer for Moana below: 
Read more: