Is Facebook Policing How Women Respond To Sexual Harassment ?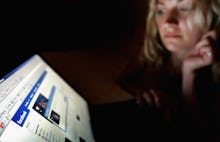 On Friday, a law student in Australia who goes by the username Asapxcecilia accused Facebook of silencing sexual harassment victims after the website removed her public posts, which featured screengrabs of another user harassing her via Facebook messenger. 
According to Asapxcecilia, who told her story in a Buzzfeed Community post, a male Facebook user threatened to spread revealing photos of her unless she agreed to send him nude photos or have sex with him. In her tweets about the alleged harassment, Asapxcecilia claimed that the man used multiple Facebook accounts to contact her. 
To warn other women on Facebook to stay away from the man, Asapxcecilia screengrabbed his messages and posted them to Facebook. The posts were then deleted from Facebook and Instagram, on the grounds that they violated community guidelines.
"Facebook has now blocked me from posting, messaging or commenting for the next 24 hours then warned me that if I speak out about this again, my account will be deleted," she wrote in the post. "This makes me feel as though Facebook does not care about sexual harassment victims, or sexual assault victims when they continue to silence me." 
In a phone interview, Asapxcecilia told Mic that she didn't report her harasser on Facebook. According to her posts on Twitter and Reddit, she was able to identify the man behind the account and took the matter to local police. 
The specific details of Asapxcecilia's story, however, are still somewhat nebulous. In response to Asapxcecila's claims, a Facebook spokesperson told Mic via a phone interview that the website had no record of her harassment being reported, but someone did report her for publicly posting a private message. Some Reddit users are also skeptical of the veracity of her claims, arguing that her timeline of events doesn't add up. 
Yet assuming Asapxcecilia's story is true, this wouldn't be the first time a female user has had her social media account disabled for calling out gendered harassment. Facebook has a history of not taking action against sexist memes, including those that promote violence against women. In 2015, for instance, Australian writer and activist Clementine Ford was banned for posting screenshots of abusive comments and memes sent to her personal messages folder. 
Earlier this week, writer Samantha Mawdsley reportedly violated the platform's anti-nudity guidelines in a post calling out a man who sent her an unsolicited dick pic.  
After Mawdsley posted the photos on Facebook, they quickly garnered thousands of shares before she was banned from the platform. She told Mic via Twitter direct message that she shared censored versions of the images, covering the man's genitals with stickers. She also noted that she was far from the only woman to be harassed by this man.
"I have been contacted by other [women] and they told me they received pics from him too, and they did report him," she said. 
Mawdsley said she did not report her harasser to Facebook, as she had little faith the social network would take her complaint seriously. 
"Facebook cannot seem to get its own policy to be applied consistently," she said. "I've seen extremely sexual pictures of women on Facebook. I've reported them and got told by Facebook to block the person sharing the content ... When I look at everything that Facebook allows, I honestly can't see what it was in my post that crosses the line."
Asapxcecilia's and Mawdsley's stories have prompted many outraged women to share their own negative experiences with reporting sexual harassment on Facebook.
"Once reported a hate page posting horrible messages to and nude pictures of an 11-year-old girl," a Reddit user wrote on an r/TwoXChromosomes thread. "Page was also harassing the 11-year-old in addition to posting literal nude pictures of her and posted her phone number. Facebook decided it was fine and didn't violate anything, ended up reporting it to police instead before it finally got taken down."
When reached for comment, a Facebook spokesperson said that the website encourages users to report harassing messages and comments. Yet it's clear from the experiences of women like Ford and Mawdsley — and from the stories of women who have been harassed on the internet in general — that many women simply don't feel empowered to do so.