Woman's Viral Post Shows "There's So Much Good and So Much Love" After Orlando Shooting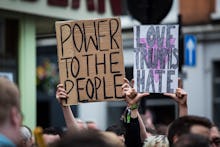 In the aftermath of Sunday's shooting at Pulse, a gay nightclub in Orlando, Florida, Islamophobic sentiment is running high. The shooter, identified as 29-year-old Omar Mateen, reportedly pledged his support to the Islamic State group, otherwise known as ISIS in a 911 call just before the attack; after ISIS took credit for the shooting, Donald Trump came forward with a new round of anti-Muslim rhetoric and social media and traditional media began blindly targeting Muslims.
But the hate has also inspired courageous acts of love, including one moment detailed by a New York City woman in a Facebook post that's gone viral. During her morning commute Monday, Amaira Hasan wrote about watching the scene when a man boarded her subway car and began verbally abusing two women in hijab.
The man told them to "go back home and take their bombs with them." And that's when the rest of the train rose up to shut him down.
"This is New York City," one bystander said, according to the post. "'The most diverse place in the world. And in New York, we protect our own and we don't give a fuck what anyone looks like or who they love, or any of those things. It's time for you to leave these women alone, sir."
According to Hasan, the train then stopped so that the "royal douche" could be booted out its doors amid cheers from the passengers. She was late for work, she wrote, "but for the best reason."
"I say all this to say that in light of all the bad happening around us, remember that there's so much good and so much love," Hasan said. 
At least 49 people died and 53 were injured in the attack, the deadliest ever committed on U.S. soil.
Read more: