In Their Words, LGBTQ People Answer "What Next?" in Wake of Orlando Club Massacre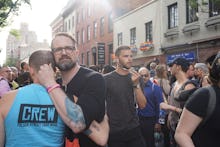 On Monday, underneath a clouded sky and surrounded by armed law enforcement, a crowd swelled outside Manhattan's historic Stonewall Inn to mourn the loss of 49 lives in Orlando, Florida, over the weekend at the hands of a gunman who espoused homophobic beliefs.  
Demonstrators carried signs with messages like "NRA = death" and "we stand with Orlando"; others waved the rainbow flag, a symbol of the struggles and triumphs LGBTQ people have seen over the decades. The bar itself was the site of explosive protests in the 1960s aimed at ending police violence against the city's LGBTQ people and served as a poignant backdrop for processing violence yet again. 
The gathering came a day after Omar Mateen, a United States citizen born to immigrant parents, opened fire on partygoers at Pulse, a popular gay nightclub in Orlando, ending in 49 deaths and dozens of injuries. The massacre quickly became the bloodiest mass shooting in the country's modern history, surpassing, in terms of numbers, the 27 people (not including the gunman) slaughtered in Newtown, Connecticut, in 2012 and the 14 people (not including both perpetrators) killed in San Bernardino, California, in December. 
In the wake of Sunday morning's massacre, many LGBTQ individuals have wrestled with making sense of the tales of carnage they saw flooding their news and social media feeds. They've asked why, they've wondered how and they've looked for reasons to explain the attack, often finding only more hurt and confusion. 
In some ways, the tragedy has felt hijacked by politicians and pundits who have used the shooting to promote Islamophobia or take swipes at their opponents. Amid the rhetoric, here are LGBTQ people and their supporters answering the simple question: "What's next?" 
Tony Billups, 37, and Michael Brady, 32; dating for three years
Angelo "Stixx" Mathews, 25
Kris Casey, 42
Stephen Skerianz, 29
David Hernandez, 30
Therese Sterling-Little, 32, and Sara Lynn Sterling-Little, 32; married three years
Crystal Lovelady, 27
Andil Gosine
Nodeth Vang, 42
Read more: