'Orange Is the New Black' Season 4 Spoilers: Did Alex Survive the Season 3 Finale?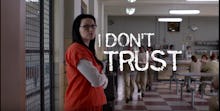 Editor's note: Season three Orange Is the New Black spoilers ahead. 
Unlike some of its Netflix counterparts, the third season of Orange Is the New Black didn't encompass a series-wide cliffhanger — instead opting for an impending sea of new inmates set to join Litchfield Prison as the rest of the population enjoyed the accompanying lake. However, one storyline has been nagging at the passionate fanbase: Did Alex Vause (Laura Prepon) survive her assassination attempt? 
For most of last season, Piper (Taylor Schilling) was frustrated with Alex's paranoia that their former boss and drug kingpin Kubra (Eyas Younis) had sent someone to kill her. In fact, Alex was so preoccupied with thinking she was going to die that she didn't notice Piper had been cheating on her with fellow inmate Stella (Ruby Rose). But Alex's concerns were far from delusional; they came to fruition while the rest of the population was enjoying the lake, as a corrections officer revealed himself to be Kubra's enforcer. 
The final exchange shows Alex telling the undercover officer, "You don't have to do this," before he calmly replies, "Yeah, I do." It's hard to envision a scenario in which Alex survives such a close encounter — especially when the near-majority of Litchfield's inmates are outside of the complex swimming in the lake. 
However, Prepon might have actually spoiled the twist in an Instagram post from July 2015, when she posed with her fictitious prison I.D. while in makeup as Alex. But at the time, all it did was spin the rumor mill further.  
Officially, though, Alex fans can be rest assured: At the very least, she's surviving her encounter with the undercover C.O. According to TV Guide's Sadie Gennis, Alex will have some unlikely help to escape the situation. That said, it doesn't mean she'll be out of the woods just yet. 
"Alex forms an unexpected alliance with a handful of inmates who are willing to do anything — and we mean anything — to save her life," Gennis wrote. "But secrets rarely stay buried, and when one member of their crew threatens to blow their cover, Alex will have to decide just how far she's willing to go to protect herself." 
Like the rest of Litchfield, it seems — who will be dealing with a prison culture war that'll reflect modern sociocultural movements such as Black Lives Matter — Alex may be alive, but that doesn't mean she'll be safe for long.
Orange Is the New Black returns to Netflix on Friday. You can watch the trailer for the new season below. 
Read more: