Apple iOS 10: All the Features and Upgrades That Will Change How You Use Your Phone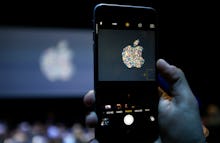 Apple CEO Tim Cook and a cadre of company execs took the stage on Monday during the Worldwide Developers Conference to tease a bunch of new software upgrades. There are no new shiny gadgets yet — you'll have to wait until the fall for the iPhone 7 — but the guts of your soon-to-be-obsolete iDevices have been revamped. Introducing iOS 10. 
Messages are totally different
If you consider yourself a wordsmith, the text app of the future doesn't give a damn. With iOS 10, you'll be able to plaster animations over the entire message screen, add stickers, doodle on videos, tap to swap out words for emoji or send a quick preset response. 
Invisible Ink
If you're interested in simplicity, you're out of luck. Invisible ink is a new feature that will let you send hidden messages or photos that can be decoded with a swipe of a finger. There are also message bubble effects — you can adjust the size and impact of your Message. You can also send a message in your own handwriting. Analog AF. 
All-new Maps and home automation
There were also a bunch of app overhauls. Maps can now make "proactive suggestions" to optimize your route from point A to point B, letting you search for nearby locations along the way and telling you how much time those stops would tack on to your trip. You can also make reservations and hail a car from within the Maps app. 
The Home app lets you create "scenes" in your home, so saying "Hey Siri, good night" can turn off the lights and lower the blinds. 
Apple Music and Apple News got overhauls
On the new Apple Music, you can view lyrics while you're listening. The app update will also include daily curated playlists. 
Apple News now offers editors' picks, suggestions based on what you read, subscriptions and breaking news notifications in the lock screen. 
Photos tracks your face and brings your memories to life
The Photos app is now equipped with facial, object and scene recognition which makes for a much more powerful search. It'll also enable the app to create movies — soundtrack and all — out of your curated memories. 
The Apple Pay update is huge
Apple also announced that Apple Pay will hit the web. You'll be able to pay on your computer using the Touch ID on your iPhone or Apple Watch. It's now available in the US, UK, Canada, Australia, China and Singapore. It will roll out to Switzerland, France and Hong Kong in the next few months. 
And lots more
You can access your apps within iMessage, raise your phone to wake it up and peek at your lock screen notifications, use 3D Touch for more glance-able previews in even more apps, view photos and videos and respond to messages from your lock screen, get more contextual predictions and type in two languages at once without switching keyboards. 
Oh. And one more thing: Siri, Apple Maps and iMessage are now open to developers. So expect some third-party apps.
iOS 10 will be available as a free upgrade in the fall.