Orlando Man Harasses Gay Stranger, Says Massacre Was "Bound to Happen"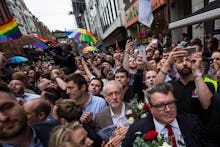 Despite the fact that the nation is still reeling from Sunday's deadliest mass shooting in modern U.S. history, some individuals refuse to give members of LGBT communities time to grieve. One such person is Orlando, Florida, resident Alec Henkhaus.
Henkhaus sent messages to Steve Foxe, a gay New York City resident, who wrote a post on Facebook regarding Sunday's shooting at Pulse, a gay nightclub in Orlando.
Read more: Queer Muslims Tell the World "We Exist" After Orlando Shooting
"Seriously though, that shooting was bound to happen," Henkhaus said in Facebook messages that were provided to Mic. "Faggots across America are very proud today! Hoorah, queers. But something like that was bound to happen. Heck, if I was queer living in America I'd start acting like a straight person, just so someone might not actually kill me. But I'm not queer so I don't have that problem." 
"Queers are cool. I know several. I also think that since this happened, queers everywhere will need to start running because y'all's safety just went up in smoke. There's no safety for you. I have a gay friend who got nearly killed and mugged because he was short and queer! I felt terrible, but I knew why it happened.
Henkhaus' horrifying messages actually speak to a larger problem within society: the anxiety and fear members of LGBT communities must reconcile with — just for simply existing. In April, a transgender woman was attacked on the subway in New York City for simply existing. Twenty-five trans women of color have been killed over the past two years for simply existing, but the actual numbers may be far higher.
LGBT persons took to Twitter to express just how unsafe America can be for them. 
"While the full facts are still unknown, unfortunately it is not surprising that the LGBT community was targeted," the Southern Poverty Law Center said in a statement regarding Sunday's shooting, which appeared to specifically target LGBT communities. "This community has long been vilified by those opposed to LGBT rights and is too often the target of violent hate crimes."
Henkhaus isn't the only person to express disparaging commentary about the shooting and other homophobic statements online.