The Wild — And Highly Profitable — World of Bachelorette Party Penis Paraphernalia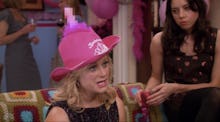 Imagine a woman's lips, coated in her favorite Mac shade, as she wraps them around a tiny plastic penis. A few feet away, a man in a g-string gyrates to Calvin Harris' latest offering, lowering himself onto the lap of a woman caught between embarrassment, hysteria and arousal. No, this isn't the internet's latest spank bank offering, but something far more mundane: a bachelorette party.
There is a cocktail of ingredients these parties must have to be as scintillating as possible: the booze, the stripper, the high heels. But today, nothing is as ubiquitous at the kind of bachelorette parties we see in movies and Instagram videos as penis paraphernalia. On a woman's last night of singledom, for many, it's critical she encounter as many penises as possible — and thankfully there's an entire industry making sure that need is met.
Read more: Apparently the World Really Needed These NSFW Penis Lipsticks
According to Tom Nardone, founder of PriveCo Inc., which owns the web retailer Bachelorette.com, penis accessories are hands down the most profitable thing they sell. "It's our entire business," he revealed in an interview. "When we first started, maybe around 1999 or 2000, you couldn't buy bachelorette party supplies anywhere else, so we would do about half pink and black stuff and half penis-themed stuff. 
Nardone has witnessed his company's titillating party products corner the bachelorette party market, turning it exclusively into a web-based business. "If you want to have the world's most boring bachelorette party, go to Party City and get the PG-rated assortment, but if you want to have a silly bachelorette party and have your friends have a good time, you have to go online."
The world of penis ornaments is both wide and hilarious, so we asked Nardone for Bachelorette.com's most outrageous dick ornaments, in no particular order.
The penis straw is the classic bachelorette party accessory. Drinking is obviously the main activity at all hen nights, and these parties must turn every activity into an overly-sexualized one that reminds a woman that her wedding is all about penises: the one she's committing herself to as well as all the ones she can no longer have. 
Do bachelorette parties have like, an oral fixation or something? Because the variety of penis candy available is really staggering. You can wrap your lips around penis ring pops, rainbow penis pops, chocolate penis pops and something that's problematically called the "Big Black Chocolate Penis Sucker." It's totally possible to sell dick pops without perpetuating black penises as sexual objects.
There's also penis gummy candy, mini penis candies the size of Nerds, gummy penis rings, Dicklicks strawberry gum, Peppermint Peckers (essentially penis-shaped Altoids), penis candy bracelets and necklaces — the options are endless. And maybe the best of all is Cum Shots, a tube of marshmallow candy shaped like a penis, clearly designed to be squirted into giggling mouths.
It turns out that you can have your penis cake and eat it too.
This one is a triple whammy. Not only do you have a shot glass on a necklace so that booze is never further away than your breasts, and not only is that shot glass shaped like a penis, but that penis-shaped shot glass is on a "pearl necklace"? 
Do you get it? Have the levels of cutting-edge subversive humor penetrated your mind? "You can't make this stuff up," Nardone said. Except they did.
Not a big seller, according to Nardone. They can't all be winners.
Some parties have flower centerpieces. But why have boring flowers as the focal point for your elegant event when you can have cocks instead?
"There was a company that made nothing except penis and boob beer bongs," Nardone recalled. "I remember when they introduced it, it was these two college kids. They said, 'This is our business,' and I said, 'Great, what else are you guys gonna make?' And they said, 'Just this.' And I thought, I'm not really sure that's a whole business." 
It turns out he was right, but their legacy lives on.
There's that oral fixation again. "Penis lipstick will raise eyebrows every time you apply it," reads the Bachelorette.com description. It's available in an assortment of colors, and while we can't vouch for the quality, it's probably not as good as your favorite Urban Decay shade. Although come to think of it, Urban Decay should totally start making penis-shaped lipstick.
This 6-foot-tall inflatable penis is Bachelorette.com's #1 selling product on a dollar basis, according to Nardone. Size does matter, after all.
Did you know what a bopper is? They're those headbands that have a variety of little ornaments on springs: shamrocks for St. Patrick's Day, hearts for Valentine's Day and penises for your bachelorette party. 
"Those things continue to sell, I think it's just because they're so humiliating to wear," Nardone laughed..
Honorable Mention:
"There was a time when people would just take anything and make it penis shaped," Nardone added. "Penis-shaped bottle openers and penis-shaped stamps and hats and glasses and cups. There was also a penis-shaped toothbrush, which seemed funny, because at least you're putting it in your mouth. But hands down the dumbest thing, at one point there was a penis-shaped stapler. And I thought, in what environment are you going to use a penis-shaped stapler? When during a bachelorette party would you need to staple something?"
Listen, Tom, some women are just trying to have it all.
Read more: