The Surprising Foods Natalie Coughlin's Eating to Prep for 2016 Rio Olympics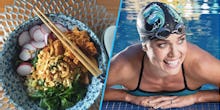 Natalie Coughlin is a swimming phenom, but she's also a low-key food role model. 
Think hours of training for the Olympics justify pigging out on candy and french fries galore? Think again. For swimming star Natalie Coughlin, quality food is an essential part of training for the 2016 Summer Olympics in Rio.
Know her name: A 33-year-old speed demon who excels in the 100-meter backstroke, Coughlin has earned 12 Olympic medals (casual) since she first competed in the 2004 Summer Olympics in Athens, Greece. That's one more medal than fellow American swimmer Ryan Lochte, FYI. 
She's tied with Dara Torres and Jenny Thompson for the most medals earned by a female swimmer.
What she eats: This badass swimmer takes her veggies seriously. 
"I am a very plant-based eater with quality proteins," Coughlin wrote in an email. Peek at her Instagram and you'll see she's not just talk — the woman knows how to make a mean salad. Pictured below, Coughlin shows off a shredded kale and Brussels sprout salad with toasted pumpkin seeds, pomegranate and shoyu tamago (soy sauce eggs.) Hot. Damn. 
Coughlin's eating habits influence the way she lives, too. At her California home, she's got eight backyard chickens that she keeps for eggs. She harvests her own veggies from a garden and reported that she often makes homemade pasta. (You feeling lazy yet?)
But it's not all slaving away in the kitchen to make meals from scratch. For on-the-go nutrition before her workouts, Coughlin favors fruit smoothies that have kale, avocado and celery, and Luvo meals, a brand of health-conscious frozen foods for which Coughlin is a brand ambassador. 
Even Coughlin's smoothie game is on point. Check out her pitaya (dragon fruit) smoothie bowl in the photo below. Strawberries, kiwis, almonds and goji berries — yaas. 
In Rio, Coughlin has her eye on the pool and not on the local cuisine. "I really don't focus much [on] eating for taste when I am [at the Olympics] — it is eating to fuel."  Her goal: getting enough calories. Luckily, there are plenty of salad bars, vegetables and Greek yogurt to whet her appetite. 
"I really don't focus much [on]eating for taste when I am [at the Olympics] — it is eating to fuel."
Once she's done competing, food takes center stage once again, but fans probably won't see her indulging in a Brazilian feast. Pasta is more her style. (Hello, delicious carbs.) 
"I always unwind after a competition with a great meal," Coughlin said. "To me, there is nothing like an authentic Italian meal with pasta and a really good red wine." 
Here's hoping Coughlin's fast moves in the pool earn her some sweet bling and trophy-worthy wine to wash down some tortellini. 
Learn more about Olympic hopefuls at teamusa.org. The Olympics begin August 5.