These Are the Heroes of the Orlando Mass Shooting — And You Need to Know Their Names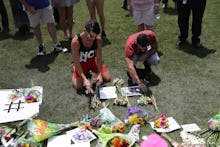 It's the deadliest attack on American soil in modern U.S. history: On Sunday, Omar Mateen, armed with an AR-15-like assault weapon and a handgun, entered Pulse, a gay nightclub in Orlando, Florida, with the intent to kill scores of its LGBT patrons. He murdered at least 49 innocent people and injured 53 more.
But as more details of the tragic evening emerge, so, too, do the acts of heroism from people at Pulse who risked everything to protect complete strangers.
These are their names and their stories.
Joshua McGill escaped out of Pulse's back door and came across one of the bartenders, Rodney Sumter, covered in blood. McGill ran to retrieve Sumter and pull him behind the car.
"That's when I noticed he had been shot once in each arm," he said, on Good Morning America.
"I took my shirt off, tied it around his first initial gunshot wound on his left arm. I took his shirt off, tied it around his other arm where the other gunshot wound was," McGill added. "We proceeded to dodge and weave through the parking lot. That's when I noticed he had another gunshot wound on his upper back." 
After locating emergency personnel, police told McGill to lie on top of Sumter in the back of the police car and squeeze him, functioning as a human tourniquet, keeping him conscious until an ambulance arrive. 
Sumter appears to be in stable condition and was due to have surgery on Monday. McGill went to the hospital to check in on the Pulse bartender. 
Edward Sotomayor, Jr., a 34-year-old brand manager for a LGBT travel agency, was shot in his back and killed after he pushed his boyfriend through a door, preventing him from getting hit by the spray of bullets. 
Ray Rivera, also known as DJ Infinite, was working the club that night — he was at the DJ booth when the initial shots where fired, which he ducked behind with another man and woman. 
After the man ran to escape the scene at the first moment possible, Rivera stayed behind with the woman, ensuring she too was able to get to safety. 
"People were running from the main room, out to the patio, which leads into the parking lot," Rivera told the Daily Beast. "It emptied out quickly. Basically everybody was just panicking ...  I looked inside and saw people were laying on the floor in the main club."
"It's just one of those things, man," he added. "I never imagined I would be at anything like this. It was so terrible."
June 14, 2016, 9:16 p.m. Eastern: This story has been updated.