Let's Remember How the Orlando Shooting Victims Lived, Not Just How They Died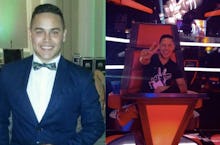 Impact
By
Jamilah King & Anna Swartz
It's unclear what drove 29-year-old Omar Mateen to kill 49 people and injure 53 others at a gay nightclub in Orlando, Florida. As the investigation continues, there will be much more speculation about Mateen and his motives. 
But the lives of the people who died in the Orlando massacre aren't solely defined by the tragic circumstances of their deaths. Some of the people who knew them best now want the world to know how they lived their lives, not just how they met their deaths.
That's not to say that the way they died is not important. Bigotry may have molded Mateen, but it's public policy that allowed him to buy an assault rifle and carry it into a crowded nightclub in a state that makes such actions remarkably easy.
Read more: These Are the Names of the Victims of the Pulse Nightclub Shooting in Orlando
Behind every victim's name is a life lived with passion, meaning and love. Here are just a few of their stories:
Shane Tomlinson
Tomlinson, 33, was an accomplished singer and performer who led The Frequency Band, which performed in Florida.
"He was such a charismatic person; he had this loud booming laugh that was contagious," Taina Brown, a friend who worshipped with him at Victory World Church in Norcross, Georgia, said in an email to Mic. "I remember when he signed up for my small group, I didn't know him at the time, just of him, and was immediately intimidated because he was so popular and so cool; I told him about that months later after getting to know him and he just laughed and said, 'Girl, please!'" 
Brown also remembers that Tomlinson loved Willy Wonka and the Chocolate Factory. "He mentioned that he would fall asleep to it every night," Brown recalled. Another friend, Veronica Larkin, also remembered Tomlinson's love for the classic film. "He would be happy watching Willy Wonka with a bowl of macaroni and cheese," she said, laughing, in a phone interview with Mic.
In the video below, Tomlinson thanks his supporters and sings what is now a haunting rendition of John Legend's "Stay With You." "For someone with such talent to be killed for nothing," Larkin said. "All over hatred — for what?"
Enrique Rios
Rios, 25, lived in Brooklyn, worked as a social worker and was in Orlando to celebrate a friend's birthday, according to the New York Daily News. One friend remembered him on Facebook this way: "Enrique and I always had jokes about the people who would come in the shop jamming us up with drinks, " the friend, Alana Coy, posted on Facebook.
"My son was a good kid," Rios' mother, Gertrude Merced, wrote on her GoFundMe page to help raise money for her son's burial. "He was just having a great time on his vacation, until this deranged man came in and shot the place up killing 49 people and 30 in critical condition."
KJ Morris
Morris, 37, had recently moved to Florida from Massachusetts. A noted drag performer, Morris performed as "Daddy K" in Northampton, Massachusetts, with King St. Boiz, a local drag king troupe. 
"She was my big brother in the drag world," said Liz Mazzei, a friend who knew Morris in Northampton. "She was really into traveling, adverting, into sports, into music. She and I really bonded over '90s hip-hop R&B [but] she'd dance the night away to Justin Timberlake in a heartbeat."
In this video that was uploaded to YouTube in 2008, Morris performs "Apologize" by One Republic. 
In February, Morris posted a Facebook Live video while goofing around at work.
Akyra Murray
Murray, 18, graduated from West Catholic High School one week before the shooting. A basketball star and team captain, she earned a full scholarship to play at Mercyhurst University. In an interview with Mic, her coach, Beulah Osueke, called her "a leader" and "extremely selfless," someone who "didn't have any enemies."
"Anytime there was a problem with her teammates, like if one of her teammates got a C on a test, I would say, 'Akyra go talk to her,'" Osueke said. "She would never object."
Her coach also talked about the "hunger" that Murray had to achieve, and remembered Murray as someone who was especially driven by her family. "Everything that she did was to make them proud."
When Murray graduated the week before her death, she was third in her class. "She was just really successful, she was one of the most committed players I've ever coached."
On Monday, David Joslin posted a video of a sports banquet he attended, hosted by the West Catholic Alumni Association, at which Murray was honored. "She scored more than 1,000 points and was named All-Catholic among her many other accomplishments," Joslin wrote on Facebook. 
Jonathan Camuy
Camuy, 25, worked as producer for the Orlando-area hit show La Voz Kids and was a member of the National Association of Hispanic Journalists. "He was a great assistant producer and had been working with us since 'Yo Soy el Artista' and previously at Telemundo Puerto Rico," NAHJ President Mekahlo Medina wrote in a statement. "Most recently, he was working in audience management in the current season of 'La Voz Kids.' Jonathan will be missed dearly."
Franky Jimmy Dejesus Velazquez
Dejesus Velazquez, known to loved ones as Jimmy, was 50 years old and was an accomplished dancer. "He danced for a well-known company in Puerto Rico and traveled around the world," Sara Lopez recalled in a phone interview. Also 50, Lopez had been a close friend since the two were 16. According to Lopez, they were lifelong pranksters. "We are 50 years old but we were like teenagers," Lopez said, adding that she would tell Jimmy to hide behind a wall to scare someone and he wouldn't ask why.
Lopez also remembers his strong connection to his family. "He was an excellent uncle," she said. "He had 15 nieces and nephews and he called all of them every week, he knew their favorite colors, which ones ate ice cream with two scoops of vanilla and nuts and which one was allergic to orange."
See more the faces of the victims of the Orlando massacre in this video below:
June 15, 2016, 11:11 a.m. Eastern: This story has been updated.