A Snapchat Might Explain Why Chris Christie Always Looks So Sad With Donald Trump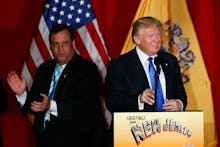 Chris Christie, the governor of New Jersey who infamously endorsed then-Republican frontrunner Donald Trump in February and received condemnations and outrage from six major New Jersey newspapers in return, has often looked dismal in his public appearances with the New York billionaire.
Here's a little anecdote that might explain why.
Amid a longer piece on the Republican Party's dilemma with the rise of the chauvinistic candidate, the New Yorker's Ryan Lizza reported on Monday that Christie has become a "sort of manservant" who Trump staffers once allegedly filmed "fetching Trump's McDonald's order."
Ouch.
Perhaps the story is too outlandish to be true. But following the endorsement Trump has at times treated Christie with less respect than might be typically reserved for a fitting governor on the campaign trail.
In March, Trump told a crowd in Columbus, Ohio, their Gov. John Kasich "is absentee," Politico reported. "He goes to New Hampshire, he's living in New Hampshire. Living! Where's Chris, is Chris around? Even more than Chris Christie, he was there, right? Even more."
"I hated to do that, but I had to make my point," Trump said to Christie, who was standing directly beside him on the stage.
A recent article in the Asbury Park Press mirrored that point, noting Christie had reneged campaign promises in 2009 to spend more time in New Jersey than sitting former Gov. Jon Corzine to spend "more time in Washington on behalf of Trump." According to the Press, Christie made at least one visit to D.C. "he intended to keep secret" before Democratic state Sen. Loretta Weinberg outed him after seeing him on a train.
Read more: