iOS 10's Invisible Ink Will Be Great for Sending Nude Photos, According to the Internet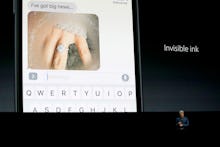 At its annual Worldwide Developers Conference, Apple told us that our privacy comes first. It also teased a new iOS 10 feature — Invisible Ink — which lets you send a hidden photo. In other words, go wild on the nude pics, because your data is safe and secure!
Craig Federighi, Apple's senior vice president of software engineering, unveiled the Invisible Ink feature with a woman showing off her engagement ring. But the internet had another extremity in mind to surprise unsuspecting recipients with, and it wasn't a finger. It was a dick. They want to Invisible Ink their dicks.
To people with penises: If you're wondering whether it'd be chill to send a surprise dick pic to someone who hasn't requested one... it's not.
It looks like people will be hard-pressed to find a reason not to move over to Android.