Orlando Gunman Omar Mateen Was Reportedly a Regular at Pulse Nightclub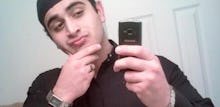 The gunman in Sunday's shooting attack on a gay nightclub in Orlando, Florida, was reportedly a regular of the venue for years, patrons told the Orlando Sentinel and the Canadian Press. He also chatted at least one person on gay dating app Jack'd, according to the Los Angeles Times.
Omar Mateen, the 29-year-old man identified as the shooter who opened fire in the crowded club Pulse in an attack that left at least 49 victims dead, "sometimes ... would go over in the corner and sit and drink by himself, and other times he would get so drunk he was loud and belligerent," a patron told the Orlando Sentinel.
Seemingly that same patron, Ty Smith, and another "recalled the eventual killer being escorted drunk from the Pulse bar on multiple occasions, including one incident where he pointed a knife at a friend," the Canadian Press reported. One person told the Canadian Press Mateen had been going to Pulse "for at least three years."
According to the Los Angeles Times, "Kevin West, a regular at Pulse nightclub, said Omar Mateen messaged him on and off for a year before the shooting using the gay chat and dating app Jack'd."
Mateen's ex-wife, Sitora Yusufiy, told the New York Times Monday her ex-husband had a history of domestic abuse. Yusufiy said she married Mateen in 2008 and last saw him in 2009.  
She also detailed his apparent anti-gay views. "There were definitely moments when he'd express his intolerance toward homosexuals," she told the New York Times. 
Read more: 
June 13, 2016, 9:37 p.m. Eastern: This story has been updated.