Pulse Shooting Survivor Jose "Junior" Martinez Shares Message From Hospital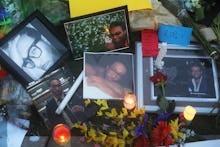 Jose "Junior" Martinez is one of the first survivors of the United States' worst gun shooting in modern history speaking out about his road to recovery after being shot multiple times inside of Pulse nightclub.
The 24-year-old met up with friends after a long day of work for the nightclub's Latin night on Saturday in Orlando, Florida, hoping to blow off some steam. His life would instead be changed forever after 29-year-old Omar Mateen, who was reportedly a regular at the club and whose father has said he was also emphatically enraged when he saw two men kissing in public, unloaded an AR-15-style rifle into the unsuspecting crowd, resulting in nation's deadliest mass shooting in modern U.S. history to date. 
Like countless others awaiting to hear news about their loved ones, his friends and family panicked after finding out he was at Pulse the night before, putting out a search online for his whereabouts. 
By about 5:30 p.m. on Sunday, they were told he was alive and recovering from multiple gunshot wounds in a hospital. His friend Sarah Hess Rosales has since set up a GoFundMe account to help pay for his hospital bills and provide support as he recovers and is unable to work. 
"Junior suffered two gun shot wounds one to the abdomen and one to the buttocks. We are so thankful to another club goer that had enough courage to carry Junior out of the club. Junior would not have made it out of the club without his help," Rosales wrote on the donation page. "Junior has had surgery on abdomen and buttocks to remove both bullets from his [body]. He was in the ICU recovering by the time we were able to get any information and see him."
Martinez, who goes by Junior Akosta on Facebook, is one of the first survivors to share a message from their personal accounts in the wake of the shooting that killed 49 victims and left at least another 53 wounded. "God is great and I don't play," he captioned a selfie from his hospital bed on Sunday, an hour after his family heard he was alive. "I was also a victim of the massacre in Orlando but I'm okay now good night." 
He later shared another image of himself in a hospital gown holding himself up for support as he attempts to stand and walk. "Don't be easy but God is with me," Martinez wrote. "The operation hurts ... Good day to you."
His roommate Luis Rosales was relieved to hear the good news about Martinez and their friend Victor Guanchez.
Read more: