Lady Gaga Delivers a Touching Tribute to the Victims of Orlando Shooting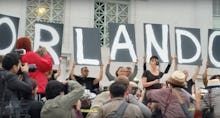 Lady Gaga led a vigil Monday night outside Los Angeles' city hall, dedicated to the LGBTQ victims targeted in Sunday morning's shooting in Orlando, Florida.
The pop star, who identifies as bisexual, has long been a vocal supporter of the LGBTQ community, and is responsible for directing cultural attention to the queer experience throughout her career. In front of a crowd of thousands, she spoke both directly to the attacked LGBTQ community and all of humanity.
"I can't help but feel that this level of hatred, like all prejudicial crimes, this is an attack on humanity itself," Gaga said. "This is an attack on everyone."
As she read the list of victims, she could not stop her emotions from straining her voice or showing on her face.
"I will not allow my anger and outrage over this attack to overshadow our need to honor those who are grieving truly for their lost ones — lost members of the LGBT community," she said. "I hope you know that myself and so many are your allies. Not only me but everyone here, we represent the compassion and loyalty of millions of people around the world who believe in you. You are not alone."
Los Angeles city hall lit up in rainbow colors to offer solidarity to the victims, as did monuments in Sydney, Toronto and Boston. Thousands gathered together in New York City, where grandstanding gay ally Nick Jonas officiated a ceremony outside the historic Stonewall Inn; in Orlando, the city's mayor Buddy Dyer guided a crowd through its mourning and anger outside the Dr. Phillips Center for the Performing Arts.
Watch Lady Gaga read the full list of victims' names below.
Read more