Orlando Shooter Gay Rumors Circulate in Wake of Pulse Shooting — Here's the Latest News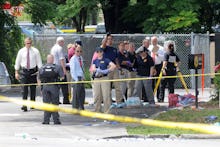 On Monday, a day after the attack in an Orlando gay nightclub that left 50 dead and 53 more wounded, rumors surfaced that Omar Mateen, 29, the individual identified as the shooter by law enforcement, was a regular at the club and had profiles on gay dating apps.
The Orlando Sentinel reported on Tuesday that Mateen was a regular-enough patron of Pulse that several customers recognized him. "It was definitely him," Pulse customer Cord Cedeno told the Sentinel. "He'd come in for years, and people knew him."
Cedeno told MSNBC host Chris Hayes that he had seen Mateen on "one of the [gay dating] apps" and said "I recognize him off Grindr." He also told Mateen that "one of my friends ... he used to talk to him on the Adam4Adam app."
So far, there's been no official confirmation that Mateen had profiles on gay dating apps, and no proof that Mateen ever had sex with other men — but, even if Mateen was gay, many of the facts of the attack remain exactly the same.
Despite a history of domestic abuse and Mateen having been previously investigated by the FBI, he was able to legally purchase a deadly military-style rifle, the same type of weapon used by the shooters in Newtown, Connecticut, Roseburg, Oregon, and San Bernardino, California.
Mateen's attack on the Pulse nightclub was not only the deadliest mass shooting in modern U.S. history, it was also a pointed attack on the LGBTQ community. And whether the attack was motivated by homophobia or self-loathing shouldn't be the point on which this entire story hinges — to do so is to shift the blame off of a culture that made both hate and weapons easily attainable for a man born and raised right in the U.S.
Read more:
June 15, 2016, 12:17 p.m. Eastern: This story has been updated.