Watch Australian Comedian Jim Jefferies on the Hypocrisy of American Gun Laws — In 2014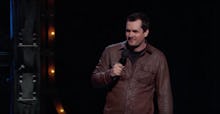 In the aftermath of a mass shooting, particularly one with the horrific scope of the recent shooting at gay nightclub Pulse in Orlando, Florida, that killed at least 49 people and left 53 injured, you might not expect to find the most revelatory insight from a comedian. 
But Vox dug up a 2014 Netflix comedy special by Australian comedian Jim Jefferies that bears particular resonance in the wake of the Orlando club shooting — specifically for his bit on gun control.  
Jefferies made a callback to his country's substantive reforms on gun control in the wake of a mass shooting from 1996 known as the Port Arthur Massacre. The shooting, which stretched across two days, left 35 people dead and another 18 seriously wounded. The shooter used a bevy of high-caliber firearms, including a semi-automatic rifle not unlike the one used by the Orlando shooter.
But it's what happened next in Australia that marks the most glaring difference between it and the U.S.: Not two weeks after the shooting, the legislature passed laws that prohibited the sale and ownership of such weapons. What's more, the movement was supported by both political parties, even with a conservative prime minister in office.
Since then, mass shootings — and more broadly gun violence — in the country are all but nonexistent.
So, per Jefferies, how has the U.S. responded to mass shootings instead? 
Perhaps most indicting is Jefferies' first joke in the gun control segment, where he sarcastically boasted that the Port Arthur Massacre "still hasn't been beaten." 
Unfortunately, as of Sunday, that particular joke no longer applies. 
You can watch the segment below:
Read more: