2016 Washington, D.C. Primary Results: Hillary Clinton Beats Bernie Sanders for Last Time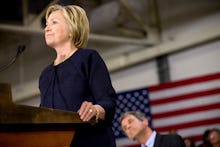 Presumptive Democratic nominee Hillary Clinton captured a massive victory in Washington, D.C., Tuesday night, increasing her delegate lead over Sen. Bernie Sanders in the final contest of the 2016 primary.
The Associated Press called the race at 8:45 p.m. for Clinton, when she led Sanders 79% to 21%.
The outcome ensures Clinton will receive the majority of D.C.'s 45 pledged delegates, with her her total pledged delegate haul at more than 2,200.
Read more: Hillary Clinton Proclaims Historic Victory: "We All Owe So Much to Those Who Came Before"
Sanders had vowed to contest every primary contest on the map in 2016. Now, with her win, all eyes now shift to Sanders and his plans going forward.
Sanders has yet to suspend his campaign, a week after Clinton clinched the nomination with big wins in California and New Jersey.
But his tone has mellowed since his loss in those states, changing from a defiant vow to bring his candidacy to the Democratic National Convention in July to a promise to bring his issues to the DNC.
It's a notable switch from a candidate who had plans to attempt to flip superdelegates — or party leaders and insiders who get a vote on the convention floor — from Clinton's campaign, despite being far behind in both the popular vote and pledged delegate count.
Sanders arrived for a meeting with Clinton Tuesday night in Washington, D.C., shortly before the race was called for Clinton, to discuss his plans moving forward.
The Vermont Senator will reportedly seek promises from Clinton to adopt some or all of his platform — including raising the minimum wage to $15 an hour and making public colleges and universities tuition free, the New York Times reported.
Democrats are hoping Sanders will unite behind Clinton's campaign, as the party now shifts a the general election fight against presumptive Republican nominee Donald Trump.
A number of Sanders voters have launched the "Bernie or Bust" movement — saying they'll never vote for Clinton in November. And Democrats worry those voters could jeopardize the party's chances at defeating Trump.
Still, polls show the unification process has begun, as Clinton widened her lead over Trump in polls released the week following her clinching of the nomination. That came after President Barack Obama, Vice President Joe Biden and Sen. Elizabeth Warren all threw their support behind Clinton's candidacy.
And Sanders, for his part, has said he will do everything he can to defeat Trump.