Activists to Commemorate Flag Day by Taking Mississippi Confederate Flag Fight to DC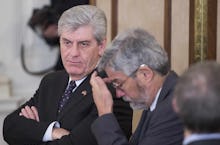 Activists are commemorating Flag Day this year by protesting to get the Confederate battle emblem removed from the Mississippi state flag.
Actor Aunjanue Ellis, scholar Michael Eric Dyson, musician Genesis Be and attorney Carlos Moore will be joined by advocates from across the country in a demonstration at the U.S. Capitol building in Washington D.C., on Tuesday, the Root reported.
"This country presents itself as this beacon of hope and opportunity and equality and race-transcendence to the world," Ellis said in an interview with the Associated Press last week. "We can't say that and, 'Well, with the exception of Mississippi.'"
The activists plan to ask Congress to outlaw Confederate symbols on public property, the AP reported.
Mississippi has stubbornly refused to get rid of its Confederate battle emblem.
The state has featured the symbol on its flag since 1894, and remains the only state in the U.S. that still has the emblem on its flag today. Residents voted to keep it there in 2001.
Attorney Carlos Moore filed a federal lawsuit in February against Gov. Phil Bryant to have the emblem removed, stating it violated black people's 14th Amendment right to equal protection under the law. A spokesperson for Bryant called the suit a "frivolous attempt to use the federal court system to usurp the will of the people," according to the Clarion-Ledger.
That same month, Gov. Bryant declared April Confederate Heritage Month in the state.
The Confederate flag has been a subject of heightened controversy over the past year.
After 21-year-old white supremacist Dylann Roof murdered nine black parishioners at the Emanuel African Methodist Episcopal Church in Charleston, South Carolina, last June, it reignited the debate over whether it was appropriate to fly the flag — which Roof was photographed brandishing — over government buildings in the South.
Since the attack, the banner that represented 11 states that tried to secede from the U.S. in support of slavery during the Civil War has been removed from above the statehouse in South Carolina, where it had flown since 1961.
"I think having that flag up is very divisive," Genesis Be, the singer, told the AP.