iPhone 7 Leaks and Rumors: This Is What the Next iPhone Is Probably Going to Look Like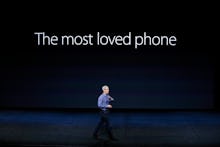 In a few months, Apple is expected to show off its shiny new iPhones, holding them up like Simba as Silicon Valley's eyes glisten in the rectangular metal's shadow. 
And it'll probably look a lot like the iPhone 6s. 
iPhone 7 rumors indicate that the next-gen Apple phone will be "almost identical" to the iPhone 6s in terms of size and thickness, MacRumors reported. It'll also likely launch alongside an iPhone 7 Plus, just like its predecessor, measuring in at 4.7 and 5.5-inch screen sizes, respectively. 
The iPhone 7 and iPhone 7 Plus may be a bit sleeker than the iPhone 6s though — rumors suggest that the antenna bands (those stripes across the back of the phone) will be removed and it'll feature a less protrusive camera. 
Thinner
It may also be thinner if it scraps the headphone jack, which Forbes reported may be the case, since there's a leaked iPhone 7 case that doesn't have a dedicated cutout for it. That would mean that your current Apple EarPods would be rendered obsolete — instead, the iPhone 7 would need headphones that plug into the phone's Lighting port. 
A New Color
The thinner iPhone 7 may also launch with a new color option — "Deep Blue," according to MacRumors, swapping out the Space Gray color option but keeping the existing Silver, Gold and Rose Gold options.
A Better Camera
Rumors also point to a dual camera system in the iPhone 7 Plus rather than 2-3x optical zoom as well as boosted camera performance in low-light conditions, MacRumors reported. The iPhone 7 isn't expected to get these improved features and will stick with the single-lens camera. 
Faster Processing
As for the guts of the iPhone 7 and iPhone 7 Plus, you can expect Apple to launch the new phones with faster processor, LTE and WiFi chips. Bluer, thinner, faster, stronger. 
Waterproof
They may also "very likely" be waterproof, according to Fast Company, and support wireless charging. About damn time. 
The iPhone 7 and iPhone 7 Plus are expected to launch in the fall.