After Orlando, I Messaged Every LGBTQ Contact in My Phone — The Response Was Heartbreaking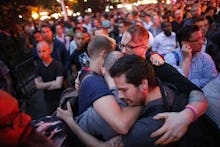 As someone who's written articles with headlines including "When You're Addicted to Saying 'YAAAAASS!'" and "How to Take a Shirtless Selfie That'll Get You 10,000 Followers," I'm clearly something of an expert on internet frivolities. So I've been a little afraid to weigh in on the horrific massacre that took place in Orlando last weekend.  
In the LGBTQ community, this seemed to be a universal sentiment in the aftermath of the attack, regardless of what industry you work in. As I combed through headline after tweet after status update, I saw my LGBTQ brothers and sisters struggle to parse through the spectrum of terror and fury, their thoughts clearly scattered. 
"What can we do?," the question on everyone's minds seemed to be. It made a lot of sense: Yes, we are Orlando and yes, love is love is love is love is love, and yes, we shouldn't stop the music, but in the wake of such a violent attack, it was only natural to feel a sense of helplessness.
Some people decided to give blood. Others decided to organize vigils. I decided to seek solace in my phonebook. 
I texted a few of my queer friends a simple message: "How are you? Checking in. You good? Feeling okay about everything? Need to chat? I am here." It wasn't a considered gesture, just one that seemed to make sense at the time as I struggled to process my own emotions. 
A minute later, I received my first response: "That is so kind. I'm angry. I'm devastated. I want to DO something."
Encouraged by this brief moment of connectivity, I decided to go through every queer contact in my phone, from occasional booty calls to professional contacts to the ones who held me and cheered when the Supreme Court ruled in favor of marriage equality nearly a year ago. I even texted the fucker who stood me up on our second date. 
All told, I sent the same text to about 450 of my LGBTQ contacts. I had them in my phone for different reasons, and I knew them in a number of different ways, but we were all the same, after all: queer to the bone.
I got a handful of confused responses, from "huh?" to "you high?" to the inevitable "who's this?" But the majority of the responses were highly emotional. I can only speak for myself, but the resulting conversations brought unexpected release. 
"Hey love, it means so much that you have reached out to me," one person wrote. "I am OK, hate to hear what has happened and am nervous for this month as it seems to be [frowned] upon. All I can is hope and pray for the best for my friends and the gay community as a whole... Please take care of yourself. and be safe this pride. I hope you are well and continue to be strong. Thank you again for reach[ing] out, old friend."
Over the course of the next hour, more responses trickled in:
"Just as you sent that, another friend asked me if I could talk, that he was grieving."
"I'm well, grateful to be alive, but hurt. Hurt for our people!"
"I wouldn't necessarily say I'm good, but I am making sure to both surround myself with and share support, love and kindness."
"This was my home, I used to dance there so many weekends."
"I'm just heartbroken... and fucking livid!"
I've received more than 300 responses so far. None are exactly the same, yet they all affirm a sentiment that I knew existed, but had for so long struggled to tap into: We are a community, bonded by our time walking this Earth as something other. 
LGBTQ people might be vulnerable individually, especially in periods of great duress. But we are powerful in numbers. Posting on Facebook or organizing vigils and protests can help us feel less alone during times of extreme unease. But I found that even something as small as sending a single text message can help to fortify our inextinguishable community.
It's difficult to describe an act so senseless and unthinkable, to find words that encapsulate the myriad emotions that run thick through our blood. And while I in no way feel better, I feel safer knowing that everything that Sylvia Rivera, Marsha P. Johnson and more fought for, everything that Larry Kramer, Janet Mock and more continue to fight for, was not in vain. 
Mostly, I was reminded of something that I think I knew deep down all along: Queer people are magic. We are strong. And we will survive this.