Chick-fil-A Workers Did the Unexpected in the Wake of the Orlando Tragedy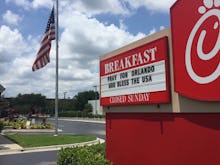 In the wake of the heart-wrenching tragedy in Orlando, many tales of support, solidarity and love have emerged. At a time when hatred and anger can so easily dominate, it's important cling to the stories that fight back with human decency. 
Following the shooting, thousands of people lined up Sunday to donate blood in response, and Chick-fil-A staff handed out sandwiches and iced tea to those waiting in line, the Atlanta Journal-Constitution reported. 
Chick-fil-A's support comes as a (welcome) surprise, considering the chain's turbulent history with LGBTQ communities. In 2012, current CEO Dan Cathy, then the COO, made a number of comments opposing gay marriage on a national radio show. This was shortly after Chick-fil-A came under fire for donating millions of dollars to organizations that are considered hostile toward LGBTQ rights.
Chick-fil-A is famously closed on Sundays. Founder Truett Cathy believed that employees should spend Sundays with family and friends and worship ("if they choose to do so"), Chick-fil-A explained on its website. So on this particular Sunday, employees extended store hours and opened up shop to help feed those waiting in line to give blood.
"Our restaurant, along with a couple of others in the area, simply responded just like numerous other Orlando businesses and residents have done," Chick-fil-A of University Blvd. at Rouse Road wrote on its Facebook page. "We came together as a community to lift those in need."
A number of local restaurants have offered their support in this time of crisis, some donating portions of their sales to the victims and their families and offering snacks to those waiting in the huge blood bank lines, the Orlando Sentinel reported. "Food comforts people," Gary Appelsies, the director of healthy eating for the Central Florida YMCA, told the paper. "Food is emotional support. Food feels good. It brings people together."
Appelsies created a Facebook group that coordinates food deliveries of items like pizzas, salads and soft drinks from various local chefs, restaurants and caterers to the GLBT Community Center of Central Florida, as well as to the blood bank and first responders. A local outpost of Red Lobster also donated 400 cheddar bay biscuits to blood donors. 
Joshua Call, the founder of The Vegan Hot Dog Cart, personally handed out food at the blood bank. He watched people drop off water and snacks the "entire time" he was there. "We're one Orlando community," he told the Sentinel.