The Latest Update on the 53 Wounded From Mass Shooting in Orlando Gay Nightclub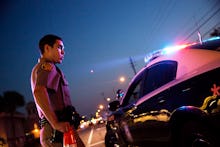 In a press conference Tuesday morning, Dr. Mike Cheatham of Orlando Regional Medical Center updated the public on the status of the 53 people who were wounded after Sunday's shooting at gay nightclub Pulse. 
According to Cheatham, who called the situation at the hospital "very fluid," of the 44 patients brought to the medical center, 27 still remain hospitalized. Six of these patients are in the intensive care unit, and 21 patients, he said, are "on the floor." He said six of the patients in the hospital are "critically ill," five are in "guarded condition" and 16 are stable.
According to Cheatham, hospital staff performed 28 surgeries on victims from the shooting Sunday, eight on Monday and are expected to complete eight more on Tuesday.
"None of the patients have succumbed to their injuries since the initial nine patients who came to us at the time of the shooting," said Cheatham, adding that those remaining in the medical center are "steadily improving."
Angel Colon, who survived five gunshot wounds to the leg, hand and hip, shared his firsthand account.
"Shortly after two we're saying our goodbyes, I'm hugging everyone — it was a great night," said Colon. "No drama, just smiles and laughter." At that time, Colon said he heard the first of the gunshots and he and his friends grabbed each other and ran. However, Colon was left behind when he was shot three times in the left leg. He said the hoards of people trying to escape trampled him, shattering the bones in his leg and leaving him unable to walk.
Colon said he thought he might be safe when he saw Mateen go into another part of the club, but when he returned, shooting at what Colon said were already-dead bodies on the floor, he thought, "I'm next, I'm dead." 
According to Colon, the shooter aimed at least two shots at his head but missed, hitting his hand and his hip. After Mateen's shootout with police, Colon said an officer was able to drag him through the gory scene to a nearby Wendy's where he and the other injured waited for an ambulance. 
Dr. Kathryn Bondani said that when the medical center received notification that there had been a shooting, they were unaware of the scope of the trauma. She said victims were being dropped off in "truckloads and ambulance-loads" until the center's trauma bay was filled to capacity. She said the hospital's staff sprung into action, and she saw nurses who weren't even scheduled to work that night help triage 44 patients, Colon among them.
"If it wasn't for you guys I definitely wouldn't be here," Colon said to the hospital staff. "I will love you guys forever for doing that for me."
Watch the full press conference here: 
Read more: