Noor Salman, Omar Mateen's Wife, May Have Tried to "Talk Him Out" of Orlando Mass Shooting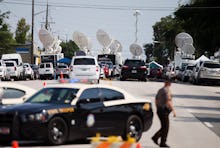 On Tuesday, NBC News reported that Noor Salman, wife of Orlando mass shooter Omar Mateen, may have known of his plans. Salman reportedly told the FBI that she tried to "talk him out of conducting" the attack, reported NBC's Pete Williams.
"According to several officials who are familiar with what she has told the FBI, she has said that she drove him at least once to the Pulse nightclub because he wanted to see it in advance, and that she was with him when he bought a holster and some ammunition," Williams reported, "But that she tried to talk him out of the attack, she tried to dissuade him from it. In other words, that she had some idea of what he was planning and that she tried to talk him out of it." 
Salman is reportedly staying with Mateen's father in Port St. Lucie, and is currently cooperating with FBI officials, NBC reported. There's no word yet on whether or not Salman will face any criminal charges connected to the attack.
Sunday's attack on Orlando gay nightclub Pulse left 50 dead, including the shooter, and 53 more wounded. It was the largest mass shooting in modern American history.