Russian Spies Hacked the DNC, Stole Opposition Research on Putin Fan Donald Trump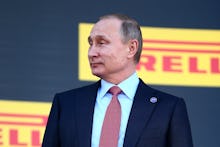 Spies for the Russian government infiltrated the Democratic National Committee's computer network, and in the process obtained the group's entire opposition research database about presumptive Republican presidential nominee Donald Trump, the Washington Post reported Tuesday.
The spies also gained access to computers of "several GOP political action committees" as well as computer networks for the Trump and presumptive Democratic nominee Hillary Clinton campaigns, Reuters tweeted.
CrowdStrike, a cyber firm the DNC tapped to fix the breach, said two groups working for the Russian government — one of which hacked the DNC's email and chat system to track communication — were involved in the hack, according to the Post's report.
Read more: Donald Trump Embraces Gays and Gives Muslims the Middle Finger in Speech on Orlando
"The security of our system is critical to our operation and to the confidence of the campaigns and state parties we work with," DNC chairwoman Debbie Wasserman Schultz told the Post. "When we discovered the intrusion, we treated this like the serious incident it is and reached out to CrowdStrike immediately. Our team moved as quickly as possible to kick out the intruders and secure our network."
Russian President Vladimir Putin has expressed admiration for Trump, saying after Trump's April foreign policy speech that the businessman is, "a brighter person, talented without a doubt," CNN reported.
Trump, in return, said he liked Putin.
"I like him because he called me a genius," Trump said, according to CNN. "He said Trump is the real leader."