Clinton Rips Trump Over His Orlando Response: "He Has Nothing Substantive to Say"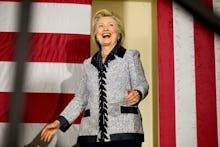 Presumptive Democratic nominee Hillary Clinton delivered a scathing rebuke of Donald Trump's response to the terrorist attacks in Orlando, saying her Republican opponent has "nothing substantive" to say about his plan to combat the Islamic State group, also known as ISIS, and instead resorts to "bizarre rants and outright lies."
Clinton made the speech Tuesday afternoon during a campaign stop in Pittsburgh, Pennsylvania, one day after Trump doubled down on his plan to ban Muslims from immigrating to the United States following Sunday's massacre — which was carried out by a man who pledged allegiance to ISIS.
Read more: Donald Trump Embraces Gays and Gives Muslims the Middle Finger in Speech on Orlando
She fired back at Trump's attack that she won't utter the words "radical Islamic terrorism," asking "what exactly would it change" if she said the words.
"Is Donald Trump suggesting that there are magic words that once uttered will stop terrorists from coming after us?" Clinton said.
She added, "If Donald suggests I won't call this threat what it is, he hasn't been listening. But I will not declare war on an entire religion."
At the same time, Clinton called out the Republican leaders who have yet to condemn Trump's comment suggesting President Barack Obama is a terrorist sympathizer, after Trump said in an interview with Fox News that, "There's something going on" with Obama's refusal to speak the words "radical Islamic terrorism."
"Will responsible Republican leaders stand up to their presumptive nominee?" Clinton asked. "Or will they stand by his accusation of our president?"
Clinton delivered her remarks at the same time Obama spoke from the White House to criticize Trump's doubling down on his Muslim immigration ban following the attack in Orlando. He echoed many of the attacks Clinton spoke during her speech.
"This is a country founded on basic freedoms, including freedom of religion. We don't have religious tests here," Obama said. "Our founders, our Constitution, our Bill of Rights are clear about that. And if we ever abandon those values, we would not only make it a lot easier to radicalize people here and around the world, but we would have betrayed the very things we are trying to protect."