You'll Never Guess How Many Women-Run Restaurants Made It on the World's 50 Best List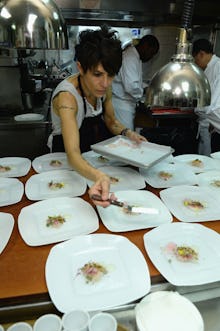 Just because you are named the top female chef the in the world doesn't mean your restaurant will also get that honor. This is a lesson that chef Dominique Crenn (of the restaurant Atelier Crenn in San Francisco) learned the hard way on Monday night. 
Crenn was named the Best Female Chef in the World by the World's 50 Best, a controversial list revealed at a gala in New York City. But her restaurant was nowhere to be found on the list of the world's top 50 restaurants. In fact, it didn't even make it on the list of the world's top 100 restaurants. 
How exactly does that work?
It doesn't. 
The annual list, which has been published for the past 14 years, has a storied history of being problematic for its lack of diversity and inclusivity.  Crenn's award, while notable, still highlights the larger issue: a system that says you may be the best female chef in the world, but there are still 50 male chefs that are better than you. 
Not only is Crenn non-existent on the list, no restaurants run solely by females are represented, either. In fact, only two females made it into the top 50 this year, and both are co-owners (Pia Leon of Central in Lima, which is ranked number 4 and Elena Arzak who works with her father to run Arzak in Spain, which was listed at 21.) 
This isn't just a women's issue. There are a number of problems with this preferential list that ignores a host of identities and talents contributing to the food world. Here are three more:
Only high-end restaurants make the cut
While the list does feature restaurants from around the world, they all fall within an extremely high price point. Eater listed what it would cost to dine at the top restaurants on the list and for dinner at any of the top three, diners must fork over at least $184 dollars (often before tax and tip).
Is it really fair or inclusive to deem the world's best restaurants as ones that solely fall under the fine dining category? Is it fair to exclude cheap hole-in-the-wall restaurants or smaller mom-and-pop eateries? This unstated fine-dining ruling inevitably requires restaurateurs to have the financial resources to fund upscale ingredients like caviar and gold flakes. Skilled chefs who don't have this type of access are immediately disqualified from making the ranks. 
Voting credentials? What voting credentials?
The 1,500 judges that vote on the restaurants are "food writers, chefs and restauranteurs and well traveled gastronomes," Eater reported. Voters need to have dined at the seven restaurants they cast their votes for in the past 18 months — but that's pretty much it as far as credentials go. Unlike the Michelin Guide, voters for the the World's 50 Best can accept free meals from restaurants, so there is no telling whether a free fancy meal swayed certain votes. 
The top three restaurants for at least the past nine years are run by — you guessed it — white dudes. 
Yes, for the past nine years, restaurants run by white men have landed on the list's number one, two and three spots.
There are six continents on the planet with thriving restaurant scenes, and yet somehow the top three restaurants are always located in either Europe or America, run by said white guys.
This year's winner, chef Massimo Bottura, the owner of Osteria Francescana, is from Modena, Italy. The Roca brothers, who own El Celler de Can Roca, are three men from Spain who came second on the list. Third this year was chef Daniel Humm, who owns Eleven Madison Park in New York City. 
These three restaurants are surely noteworthy, but the Euro-centric view of the list raises questions. Are Asian and South American and African restaurants getting a fair shake? 
None of this is to say that winner chef Massimo Bottura isn't deserving of the best restaurant title. But making it on to the World's 50 Best list could carry much more weight, and have far greater impact, if the organizers re-evaluated its practices to be more inclusive.