Head of Homeland Security Jeh Johnson Thinks Donald Trump's Muslim Ban Is a Terrible Idea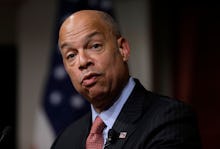 The U.S. Secretary of Homeland Security Jeh Johnson said Tuesday that banning people from entering the country because of their religion would be "counterproductive" and "will not work," according to ABC News.
Johnson did not mention Donald Trump by name during his interview with George Stephanopoulos. But his statement seemed clearly aimed at the presumptive GOP presidential nominee, who in December — and then again this week — called for a ban on Muslims entering the country.
"Overly simplistic suggestions that we ban people from entering this country, based on religion, or ban people from an entire region of the world is counterproductive," Johnson said. "It will not work. We need to build bridges to communities, to American-Muslim communities right now, to encourage them to help us in our homeland security efforts."
Johnson also cautioned that public vigilance was key to preventing future terror attacks, not demonizing entire segments of the population.
"We're in an environment now of self-radicalization," Johnson explained. "It is almost always the case that when someone self-radicalizes, someone close to them sees the sign, which is why we continue to encourage public awareness, public vigilance."
This last point is especially relevant two days after 29-year-old Omar Mateen opened fire on the partygoers of Pulse — a gay nightclub in Orlando, Florida — and killed at least 49 people Sunday morning. Mateen had reportedly espoused loyalty to various and often contradictory radical groups, including the Islamic State, or ISIS.
Mateen was also born in New York, and resided in Port St. Lucie, Florida — so an immigration ban would not have stopped him from entering the country that birthed him.