April Ross, Olympic Silver Medalist, Says Going Vegetarian Made Her Stronger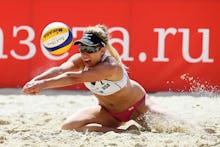 Meat is off the table for one American Olympian, but she's never felt better. 
Star volleyball player April Ross started experimenting with a vegetarian diet during her last off-season, but she decided to continue eating plant-based through her training for this summer's Olympic Games in Rio.
Know her name: Ross, with volleyball partner Jennifer Kessy, clinched the silver medal at the 2012 Olympic Games in London. The 6'1" athlete, now 34, is no stranger to the podium, though. She led her team at University of Southern California-Los Angeles to victory at two back-to-back NCAA tournament championships. Yeah, so what did you do in college? 
For the Rio games, Ross is teaming up with Keri Walsh Jennings, an American volleyball player who defeated Ross and Kessy in the finals at the 2012 Olympics. Ross is notorious for her killer serve — she was named Best Server by volleyballs' international federation in 2012 and 2015 — and the two players combined are a particularly potent Team 1 for the U.S. The duo just earned the silver medal in the 2016 World Tour, defeating everyone except the Brazilians. 
What she eats: After dabbling in a plant-based diet during her off-season in 2015, Ross found she doesn't miss meat. 
"I'm at my strongest," she told Beyond Meat, a brand that produces plant-based meat alternatives — including one that "bleeds" vegetable juice. (Disclosure: Ross is an ambassador of the brand.) 
Though she said she was nervous her diet might not be robust enough to fuel her intense training schedule of five or six days on sand per week, Ross said she's found that she's more powerful than ever before. 
"My power-to-weight ratio is the highest it's ever been," Ross said. This can be an important metric for athletes: a lean, strong body results in greater speed and endurance, two skills essential for dominating in beach volleyball. Eating clean, she said, also helps her perform at her best. 
Breakfast of champions: Ross has also sworn off all dairy products, so you won't see her splashing cow's milk on Wheaties before practice. When it comes to the first meal of the day, Ross reaches for steel cut oatmeal with bananas, blueberries, dates, cinnamon and almond milk, she said in an email. 
After practice, it's nuts and a Gatorade protein shake to help her body recover, Ross said. 
As for the food in Rio, Ross can't wait to chow down in the Olympic Village. "I hear this year the cafeterias are going to be enormous — bigger than two football fields," she said. 
Rumor has it there will be 40 different kinds of exotic Brazilian fruits, Ross noted, so hopefully she'll be able to grab a pitaya (dragon fruit) or acai bowl — two of her favorite pre-competition meals — before she hits the sand. She likes a light yet filling snack to fuel her. 
How will she celebrate her performances? "Tacos, burritos, tamales, flan," Ross said. She also indulges in dark chocolate and red wine. Cheers to that.
Learn more about Olympic hopefuls at teamusa.org. The Olympics begin August 5.
Read more: