Watch Anderson Cooper Slam Florida Attorney General Pam Bondi for Anti-LGBT Stances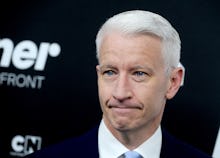 In the wake of Sunday's mass shooting at Orlando gay nightclub Pulse, many politicians have been quick to offer "thoughts and prayers" to the families of the 49 victims. While thoughts and prayers alone have never succeeded in passing gun control legislation, this time the sentiment also exposed the hypocrisy of politicians who have continually voted against LGBT rights. 
On Tuesday, CNN correspondent Anderson Cooper called out Florida Attorney General Pam Bondi for this same bias — and he didn't let her off the hook.
"Do you worry about using language accusing gay people of trying to do harm to the people of Florida when, doesn't that send the message to people who might have bad ideas in mind?" asked Cooper. 
Cooper told Bondi the gay and lesbian people he'd spoken to found her promise that "anyone who attacks our LGBT community ... will be gone after to the fullest extent of the law" hypocritical given her track record on same-sex marriage.  
Cooper was referencing a court document Bondi filed in May 2014 on the issue of same-sex marriage where she wrote, according to the Tampa Bay Times, "...There is no immediacy requiring a preliminary injunction and disrupting Florida's existing marriage laws would impose significant public harm."
Bondi denied ever saying same-sex marriage would do "harm" to Florida, saying, "Those words have never come out of my mouth."
Cooper gave Bondi some credit for promoting a hotline where victims' spouses and family members could get information about them, but pointed out that, had same-sex marriage never passed, those spouses would remain partners who wouldn't be granted access to that information.
"I'm just wondering, is it hypocritical to portray yourself as a champion of the gay community when — I'm just reflecting what a lot of gay people have told me — they don't see you as that," said Cooper.
Bondi replied, "I'm not portraying myself as anything other than trying to help human beings who have lost their lives ... I'm not championing anything other than Floridians."
Cooper didn't let up, though: He said he scrolled through a year's worth of Bondi's tweets and while he saw her tweeting about National Dog Month, he didn't come across one pro-LGBT sentiment. 
"I know a lot of gay and lesbian people in the state want to feel that the people who represent them represent everyone in the state," he said. 
Read more: