Post-Orlando, Marc Jacobs Just Honored LGBTQ Communities In the Most Beautiful Way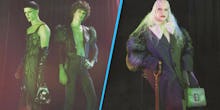 Over the past year, designer Marc Jacobs has featured a plus-size rock star in one runway show, a drag queen in an ad campaign and a transgender director in another. In short: He doesn't shy away from embracing people who are often overlooked by the fashion world for not adhering to the tall, cis, blond and thin industry standard. 
Now, with Pride Month underway and the Orlando shooting just days ago, that stance is made all the clearer with Jacobs' new ad campaign, which debuted on his Instagram over the weekend. While actress Sissy Spacek makes an appearance in one image, the most noted shots are of Carlos Santolalla and John Tuite, who were the first gay couple to be signed to a modeling agency, and artist Genesis P-Orridge, who identifies as a third gender, which s/he calls pandrogyny.
It seems that with this campaign, Jacobs' eye was set yet again on people who are challenging the status quo. 
In the image, the two wear clothes from Jacobs' most recent women's collection. Although the images were presumably taken with Pride in mind (not the Orlando shooting), that doesn't mean that the models themselves aren't aware of how meaningful a presence like theirs can be in a time like this, with the images debuting just one day after the shooting. In a statement released to Dazed, Santolalla reflected on why the campaign matters so much to him now, post-Orlando, and how it shows a certain side of LGBTQ defiance.
"I am a queer latino man living in America named Carlos Santolalla," he wrote. "Five years ago I met a man at a casting who I fell in love with, and just yesterday, our second campaign together for none other than Marc Jacobs was released." 
"We fell deeply in love. We moved in together," he continued. "We did everything as one. So naturally, in the world we live in, we started a singular Instagram page instead of getting our own separate ones. Every post on our page was an act of defiance – every kiss was a 'Fuck You' to homophobes." 
"[Love] is our only viable weapon in a world wherein people are scratching their heads wondering how we can feasibly combat guns and bombs,"
"[Love] is our only viable weapon in a world wherein people are scratching their heads wondering how we can feasibly combat guns and bombs," he continued. "Love is the reason we were attacked, and simultaneously, our only true hope for survival." 
So for Santolalla, this ad campaign — and the love he and Tuite have for one another — is the biggest "Fuck You" of all to people who hate them for the crime of loving one another. It is also a sign of the strength and defiance the LGBTQ communities have. "In lieu of the events in Orlando I hope this inspires everyone to be unapologetically themselves no matter what," Santolalla wrote in the caption for his repost of the image on Instagram. "I always felt that every photo we posted was an act of defiance against a hateful and homophobic planet." 
The campaign image serves as a reminder that, despite the attack, there is still a place in this world for people like Santolalla and Tuite to be celebrated.
The same goes for 66-year-old British artist Genesis P-Orridge, who is featured in another image from Jacobs' new campaign. 
"The individuals in these photographs represent a collective embodiment of love, honesty, integrity, courage, strength, curiosity and inspiration," Jacobs wrote in the caption of P-Orridge's photograph. "Together, as one story, this collection is a reminder to question and challenge normal and to continue exploring and pushing boundaries." 
In a moment when many designers and retailers simply slap on a rainbow onto their apparel, Jacobs decided to celebrate people like Santolalla and P-Orridge, and was not only able to exhibit the diversity within the LGBTQ communities, but also their strength and resilience.
Read more