Orlando Shooting Victim Brenda Marquez McCool's Final Act: Trying to Save Her Son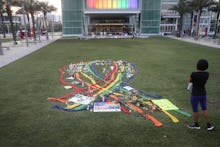 She died as she lived: Caring for one of her children.
Brenda Marquez McCool lost her life in the barrage of gunfire unleashed Sunday at the Pulse Nightclub — but not before urging her son to save himself in her final moments.
In a harrowing account, a niece described how McCool, the mother of 11 children, went out for a fun night of clubbing only to end up among the fallen in what turned out to be the deadliest shooting in modern American history. McCool's 21-year-old son, Isaiah Henderson, recounted the agonizing tale to the niece.
Read more:  I'm Angry as Hell About the Orlando Shooting. What Can I Do About It?
McCool, 49, and her son Isaiah had stepped up to the club's bar just before the slaughter began, McCool's niece, Nelia Rodriguez of Edison, N.J., said in an interview.
"She used to love having fun with her kids — enjoying life with her children," Nelia said.
Nelia warmly recalled her aunt, employed at a military base, as an upbeat woman with a fondness for Mickey Mouse and Coca-Cola and a deep dedication to her brood of seven girls and four boys. Brooklyn-born to Puerto Rican parents, McCool lived in California and New Jersey before settling in the Sunshine State. 
"Not anybody could raise 11 children on your own, but she did," she said.
Partying with her son at a gay club was no big deal, McCool's niece said, to a woman who accepted everyone as they were: "She always believed that there's no gender ... She was that kind of woman — she just didn't care if you were gay, if you were lesbian, you were heterosexual. She didn't care. She just loved everybody the same," Nelia said.
McCool supported her son's sexual identity: "She always said, 'I don't want him to feel less than the other people around him because of what he is. He's my son [and] that's how he chose to be and I support him that way.' ... She was a good mom, and she was also a good friend to her children."
Shortly before the shooting, McCool posted a brief Facebook video showing dancers whirling under Pulse's multicolored lights. 
When shooting began moments later, "They were at the bar. They were ordering drinks and she heard the gunshots," Nelia said. "[She] grabbed her phone and she said to her son, 'Run!'"
"Just go, run! Save your life — just go!"
McCool intended to dial  911, "but she didn't realize the shooter was by her — and when he saw her, he shot her two times in the back," she added.
Isaiah, according to Nelia, then ran back. He was "going to run back to get his mother," she said.
"Just go, run! Save your life — just go!" McCool continued to scream as she collapsed on the floor.
The storm of bullets unleashed by shooter Omar Mateen, who has been reported as not only a suspected ISIS sympathizer but a regular at the gay nightspot, ended the life of a woman who had cheated death before: McCool had twice survived cancer at the time of her murder, her niece said.
The massacre left McCool's family to navigate a riptide of conflicting emotions: "They're angry. They're upset. They're confused," Nelia said.
Another of her sons, Farrell Marshall, spoke about his love for his late mother on a GoFundMe page seeking support for McCool's funeral arrangements and her bereft family:
"One Decision changed the lives of many. All I ask is for prayers and whatever you can to help me and brothers sisters to be able to pick up the pieces where she left off. You will forever be in our hearts. Always. I truly love you so much MOM!" 
McCool divorced two years ago after 17 years of marriage, her niece said, but she and her ex-husband were planning to wed again this year. A short three months ago, McCool and her sister had attended their own father's funeral in Puerto Rico. The latest tragedy has only compounded the family's grief.
"It's kind of devastating," Nelia explained. Isaiah, she said, is "taking it very hard, because he just saw his mother die in front of him."
As for the family as a whole, "They can't understand why things happen — but, I mean, we never know when our destination is going to end, either," she added.