11-Year-Old Nails Importance of Relatable Heroes: "If We Want Equity, We Need Diversity"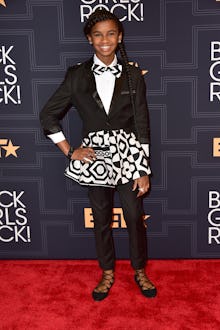 The argument offered in defense of media's pearly whiteness — the one that goes, "Well, maybe the white guy was just the better actor, ever consider that?" — is frustrating, because there are innumerable talented actors, producers, writers and authors of other races, other genders. 
It's just that they're whitewashed out of the picture.
Eleven-year-old Marley Dias learned this in school, and failing to find any relatable protagonists in the books she was assigned, decided to do something about it. As part of her #1000BlackGirlBooks project, she collects "books where black girls [are] the main character," she told actress and activist Sophia Bush during an on-stage interview at Tuesday's United State of Women summit in Washington, D.C., proving that an abundance of such stories exists, and what's more, that they're worthwhile. 
"I think it's important to have someone who looks like you because when you have someone you share a very common trait with, such as race and gender in this case, you would see all these things that they're learning and then you take that back with you to improve your lifestyle," Dias said.
When you see yourself in a hero, Dias explained, you might internalize lessons more easily and be quicker to benefit from them. Readers need role models they can see themselves in, in order to engage, be inspired and simply enjoy reading. 
Dias has so far collected more than 7,000 books, she said, and now gives them away to kids across the country. Now, she's on a literacy tour to six cities, bringing better books to more communities. "Because if we want equity," as Dias explained, "we need diversity."
Read more: