Boy Missing After Alligator Dragged Him Into the Water at Orlando Disney Resort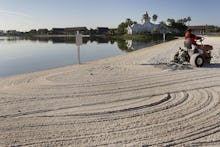 Authorities continue to search for a 2-year-old boy who was dragged into a lagoon by an alligator at Disney's Grand Floridian Resort & Spa in Orlando, Florida, Tuesday night. 
The lagoon area near the resort has several "No Swimming" signs. Orange County Sheriff Jerry Demings noted that at the time of the attack, nobody else was in the water.
The sheriff told CNN that the boy and his family were visiting Walt Disney World from Nebraska, and the toddler was "wading just in the water along the lake's edge at the time that the alligator attacked." The child's father tried to rescue his son from the alligator, but was ultimately unsuccessful. 
While the search has resumed on Wednesday morning with "fresh eyes," according to the Associated Press, the outlook is grim, said Demings.
"The sad reality of it is it's been several hours, and we're not likely going to recover a live body," the sheriff said. 
This news marks another tragedy out of Orlando, which on Sunday saw the deadliest mass shooting in modern American history, when a gunman opened fire during Latin night at the gay nightclub Pulse, killing at least 49 and injuring 53. On Friday, a man shot and killed singer Christina Grimmie during a post-concert autograph session.
Read more: