Bernie Sanders' Revolution Just Failed Its First Post-Primary Test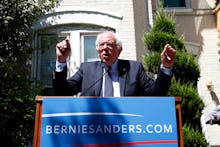 A House candidate backed by Sen. Bernie Sanders lost a congressional primary Tuesday night in Nevada, dealing the first blow to Sanders' plans for a post-primary revolution.
Lucy Flores — whom Sanders endorsed in Nevada's crowded 4th District primary and helped raise hundreds of thousands of dollars — came in second by a 14-point margin. She lost to Ruben Kihuen, who was backed by Senate Minority Leader Harry Reid, an establishment figure in the Democratic Party.
Read more: Bernie Sanders Just Took a Huge Step Toward Igniting His "Political Revolution"
A second Democrat, Jesse Sbaih, who endorsed Sanders' primary bid and ran as a so-called "Berniecrat," lost by an even wider 49-point margin in Nevada's neighboring 3rd District.
The losses highlight the challenges Sanders will face to keep his "political revolution" alive after the bright lights of the presidential primary shut off.
As Clinton's lead in the primary over Sanders grew this spring, the Vermont senator began endorsing progressive Democrats who shared his policy agenda in an attempt to alter the make-up of Congress. It's a game plan the senator could continue, as he's unlikely to be the Democratic nominee after Clinton clinched the nomination last week.
But simply put, motivating supporters to head to the polls for down-ballot races — from congressional seats to positions in state legislatures — is much more challenging than high-profile presidential contests.
And it's a bad sign for his upcoming proxy battle against Rep. Debbie Wasserman Schultz in Florida.
Sanders endorsed Wasserman Schultz's primary opponent, Tim Canova, helping the upstart challenger raise more than $1 million as he attempts to unseat the chair of the Democratic National Committee in an August primary.
Yet Canova will face off with Wasserman Schultz in a House district located in a county that voted for Clinton with nearly 70% of the vote.
That spells trouble for Canova's chances at unseating Wasserman Schultz.