Quadriplegic Author on 'Me Before You' Problem, Why He's "Angry to Be Associated" With It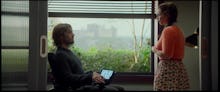 (Editor's note: Spoilers for the plot of Me Before You ahead.) 
Amid backlash for its representation of disability following the release of the film, a quadriplegic author wants to let it be known he was included in Me Before You without his knowledge. 
Francesco Clark's autobiography, Walking Papers, which follows his life after an accident in his 20s that leaves him paralyzed from the neck down, is featured in a key scene in the film. 
"I was never asked if my book could be included in the movie, nor was I ever told that it would be included," Clark told Page Six. "While I understand that this movie is based on a work of fiction, my book — and my life — is not." 
The controversy of Me Before You — based on Jojo Moyes' novel of the same name  — relates to its ending. Will (Sam Claflin), is paralyzed in an accident prior to meeting his caregiver, Louisa (Emilia Clarke), with whom he falls in love. However, prior to meeting Louisa, Will decided he wanted to die rather than live as someone with a disability, and gave his parents six months to be with them. 
At the end of the film and the novel Will ends his life at an assisted suicide facility; Clark worries the plot sends a negative message about disabilities with which he's frustrated to be associated.
"I've worked tirelessly to show people that being quadriplegic isn't the end of your life, it's another beginning," Clark said to Page Six. "While I am by no means taking a stance on the issue of assisted suicide, I feel compelled to express that I am angry to be unwittingly associated with a storyline that suggests the only option for those who sustain injuries like mine is death." 
Clark isn't the first to speak out against the movie, either. Several disability rights advocates and organizations have protested the film on social media, using hashtags like #LikeBoldly and #MeBeforeEuthanasia.
Read more: